Greenchef Orra Stainless Steel Cookers Combo 5L & 3L
₹4,249.00
(Inclusive of all taxes)
Availability: In Stock
High-grade stainless steel
Thick sandwich bottom
Both induction and gas compatible
Improved pressure regulator
Gasket Release System
| | |
| --- | --- |
| Model | Orra |
| Warranty | 5 years |
| Package Weight | 4.7kg |
| Material | Stainless Steel  |
| Capacity of cookers | 3L & 5L |
| Special feature  | Induction base   |

Greenchef Orra Stainless Steel Cookers Combo (5L & 3L)
Greenchef Introducing Orra Combo of Stainless-steel pressure cooker 5 Litre and 3 Litre with Single Cooker top and a glass lid for your kitchen. This ergonomic Stainless-Steel pressure cooker maintains its gleam without corroding which is an indication of its durability. Its SS 304 food-grade stainless steel body is ideal for pressure cooking dals/rice or vegetables on Gas stoves and Induction top as well. The unique three-layer encapsulated bottom absorbs and retains heat thus saving fuel while cooking. The cooker is easy to clean and simple to maintain. Prepare wholesome and nutritious meals for your loving family and friends.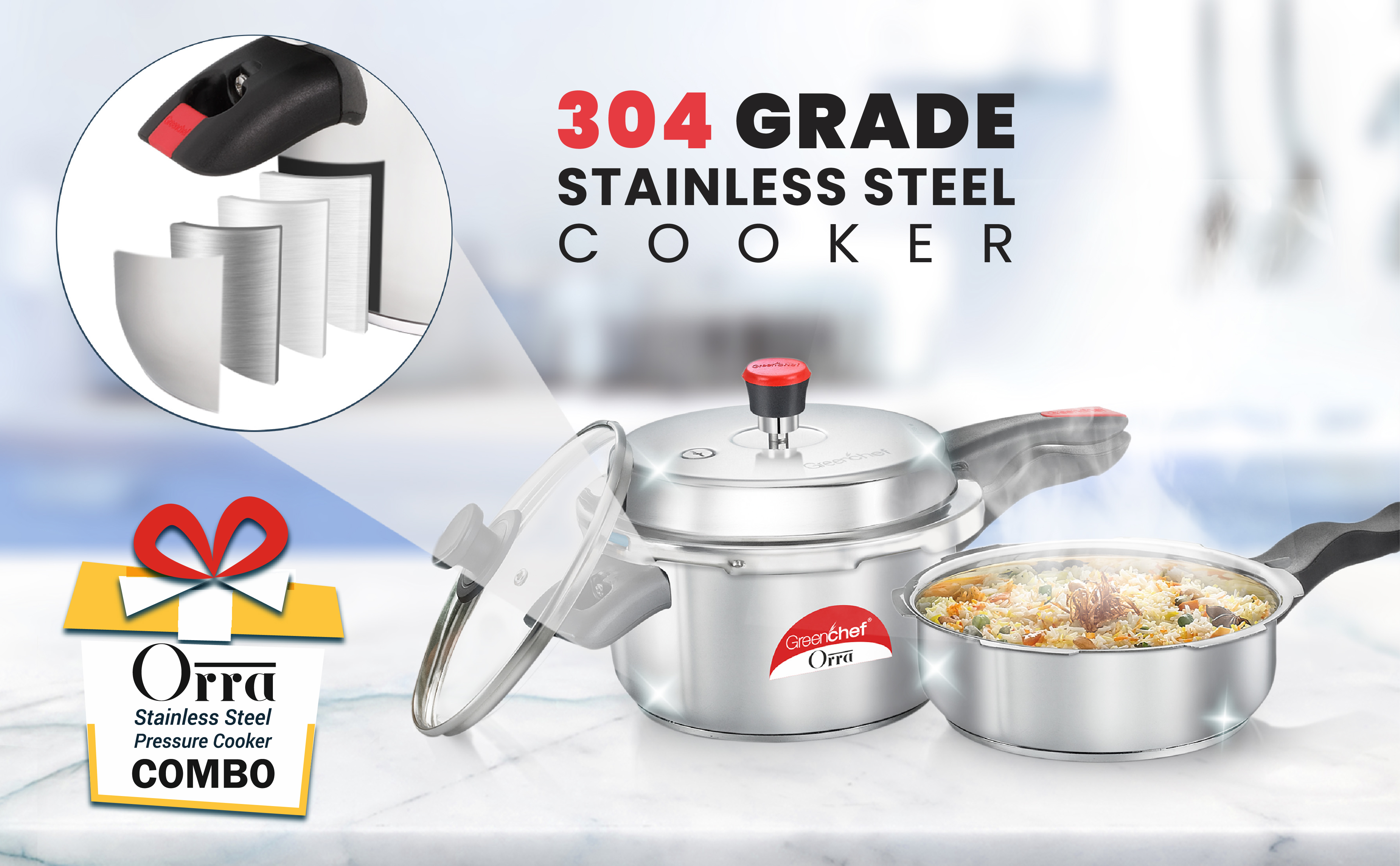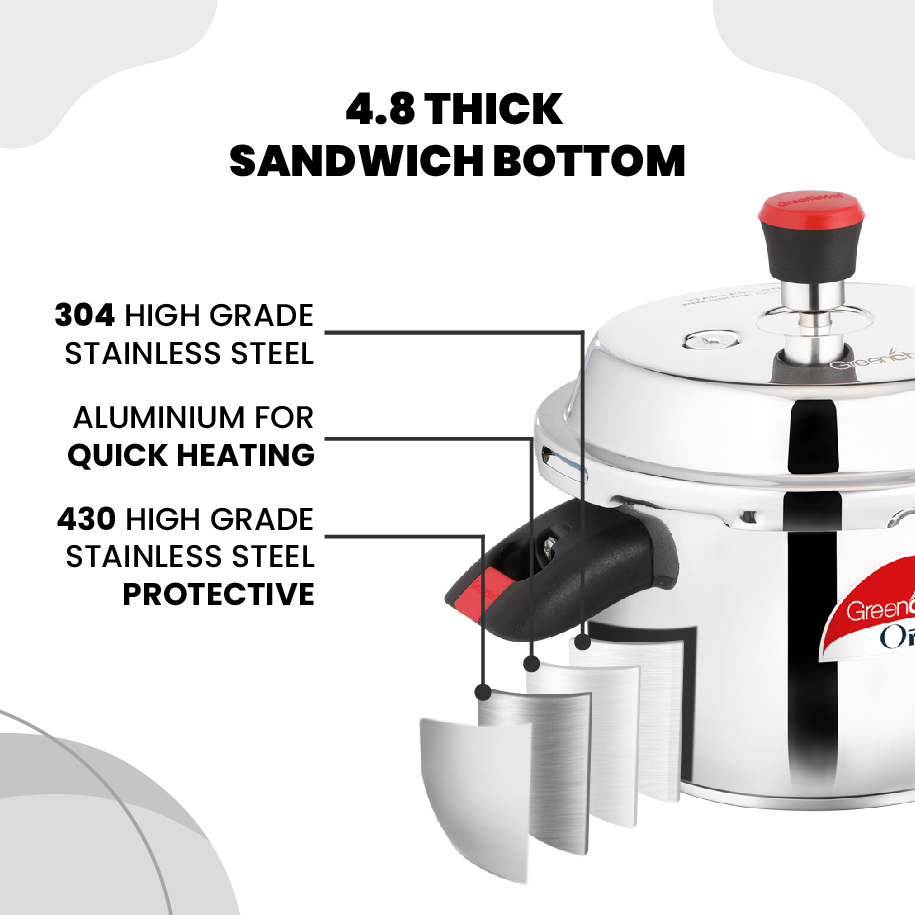 Thick Sandwich Bottom
Greenchef orra cooker comes with aluminium core - a good conductor of heat, sandwiched between food-grade stainless steel and induction compatible stainless steel. This sandwich cooker bottom is 4.8mm thick, hence preserves its flatness without bulging into an uneven concave surface.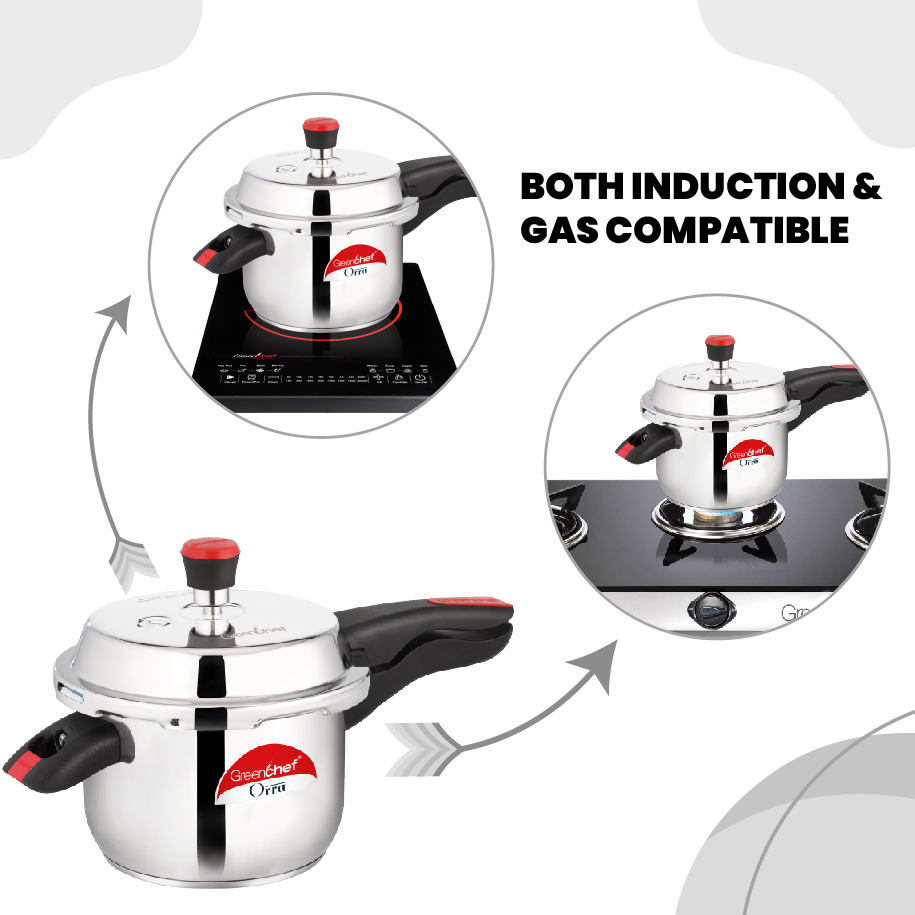 Induction and Gas Compatible
The pressure cooker has an efficient induction base which makes it versatile cookware. It can also be used on multiple cooktops such as gas and electric stove for better convenience. This cooker is crafted with an anti-bulging base that can withstand regular usage without causing any damage to the base.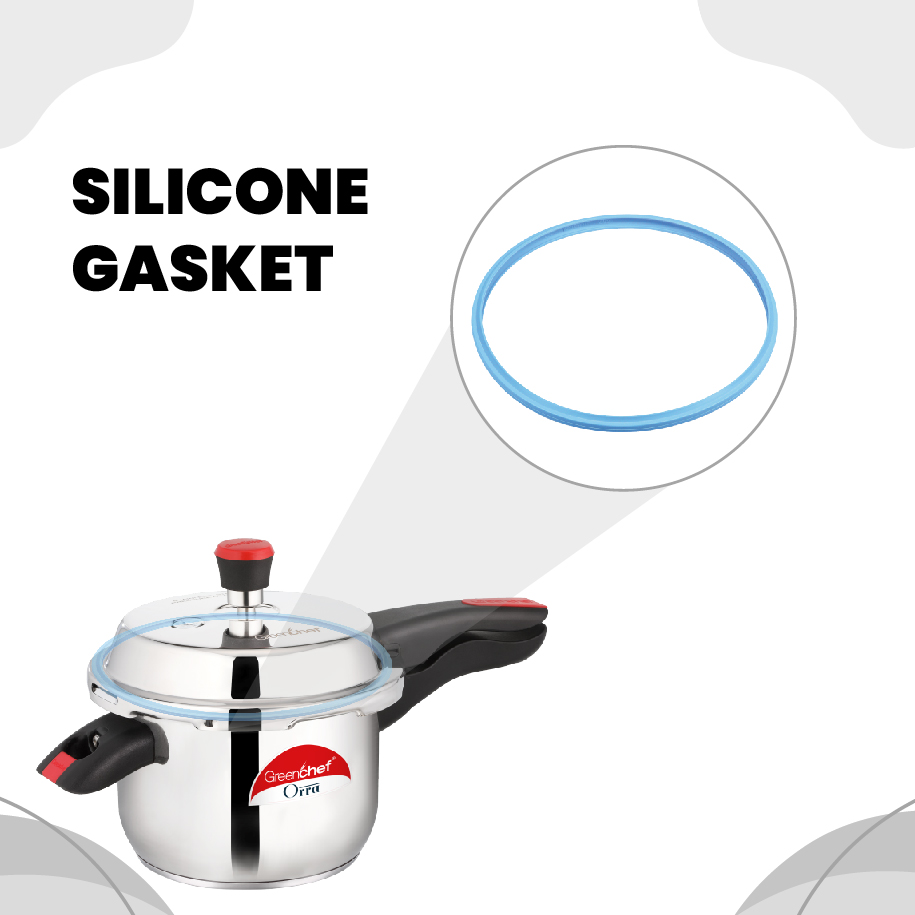 Food-Grade Silicone Gasket
The Orra cooker lid comes with a food-grade silicone gasket which is made from the finest quality rubber. The rubber of the gasket ensures no harm to the food and is also quite durable.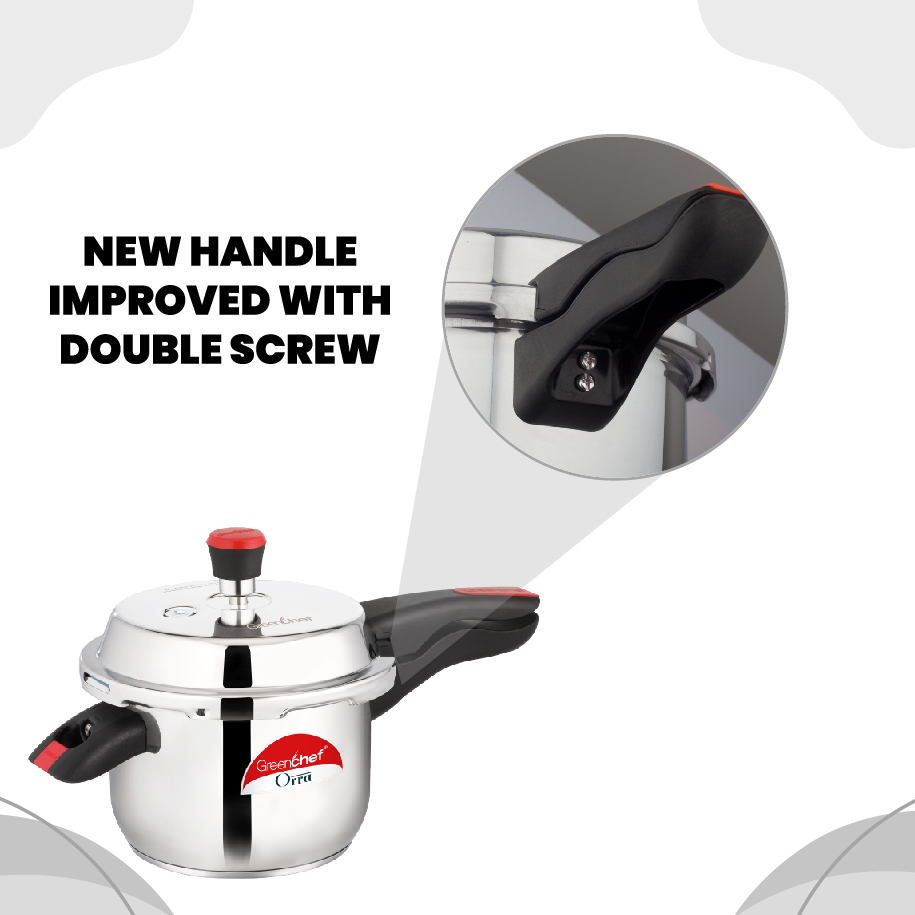 Handle with Double Screw
This Stainless-Steel outer lid cooker has a specially designed handle with a double screw for the ideal grip and support. The handles are made of Bakelite which is heat resistant and guarantees a safe cool touch.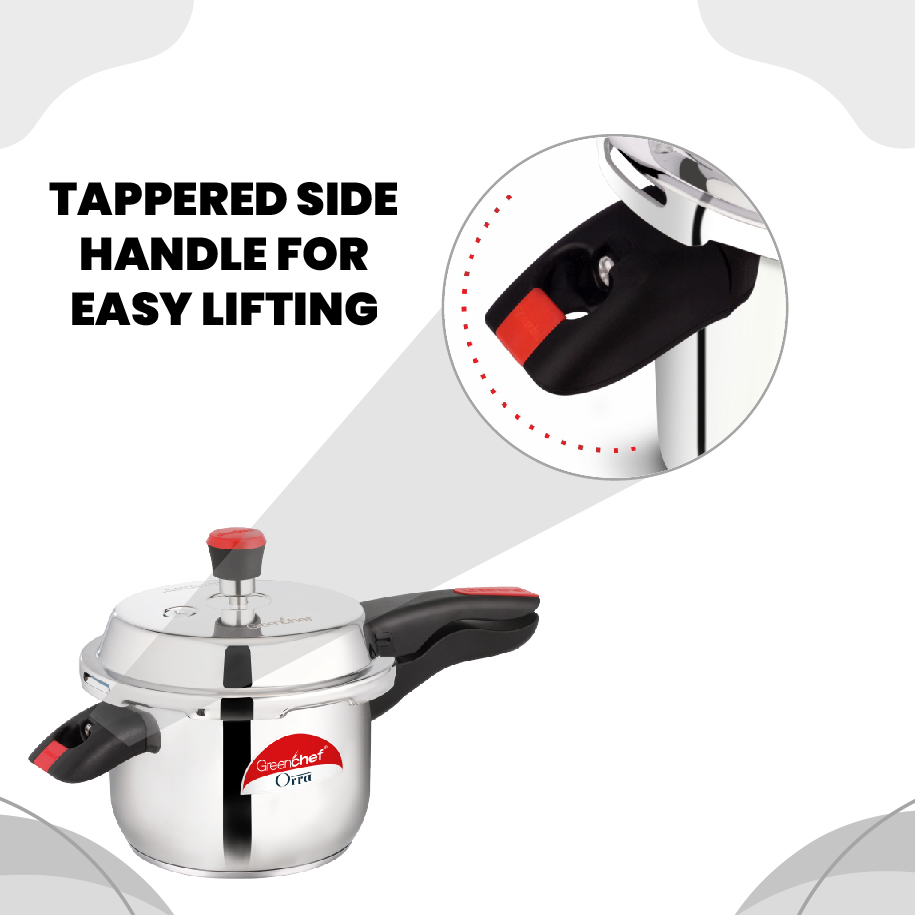 Side Handle for Easy Lifting
Greenchef Orra cookers are equipped with comfortable Bakelite side handles. These handles can help you to lift the cooker easily and keep your hands safe and away from heat and offer a firm grip.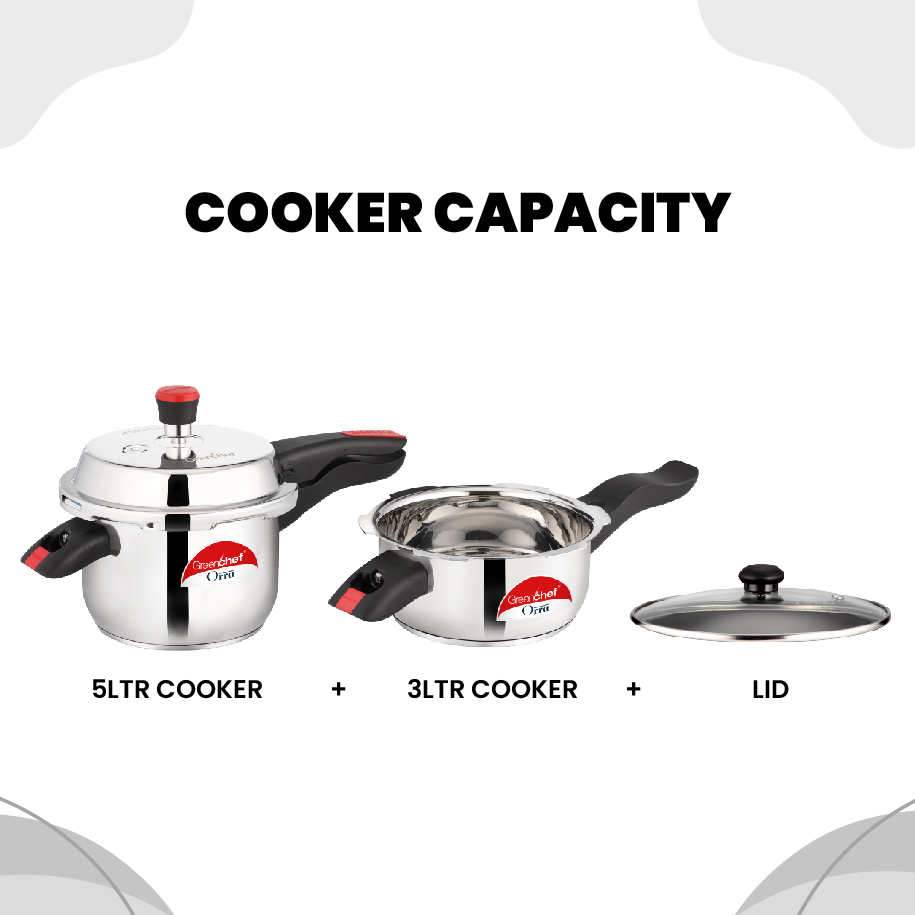 Combo Cooker Capacity
The Orra Cooker Combo contains two elegant pressure cookers with a shiny metallic finish. The large cooker is of 5 Liters and the smaller Cooker is of 3 Liters capacity in volume respectively with a single top and a glass lid. They are ideal for any type of contemporary kitchen.
Ratings & Reviews
Have doubts regarding this product?