Greenchef Acura 60cm Chimney BK
₹16,333.00
(Inclusive of all taxes)
Availability: Out of Stock
Suitable for 3-4 Burners
Suitable for kitchen size <100 sqft
Best for low frying and grilling
Uses fine Mesh to trap grease
Needs regular manual cleaning of the filters
Very effective in removing odor
Baffle Filter
| | |
| --- | --- |
| Model | Acura |
| Color | Black |
| Suction Power | 900m³/hr |
| Size | 60cm |
| Package Weight | 8.7kg |
| Warranty | Life time warranty |
| Shape | Pyramid |
| Special features | Noiseless operation, LED Lights, push control buttons & Baffle filter. |

Greenchef Acura 60cm BK Chimney
Recreate the look of your kitchen by installing the Greenchef Acura kitchen chimney that gives you an experience of hassle-free cooking and helps you in keeping your kitchen clean by the exposure of smoke and strong aromas that makes your health risk free. This is designed compact and elegantly that have the attractive and impressive performance to meet all the requirements of your kitchen. This Greenchef Acura chimney comes with a capacity airflow of 900m³/and also with two LED lights that provide perfect lighting for your cooking and push-button controls for your easy handling. This gives you a perfect modern look to your kitchen by occupying very little space. The baffle filters are inserted to make the kitchen smoke-free and oil-free that provides a comfortable cooking environment and even making less noise. Having an option choosing range high, medium, and low suction to suit a variety of foods and cooking.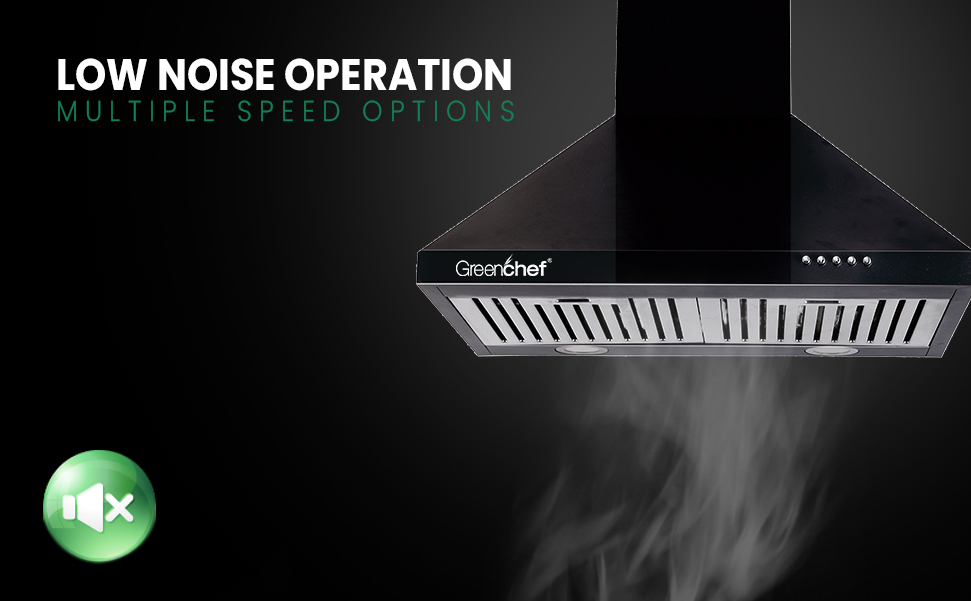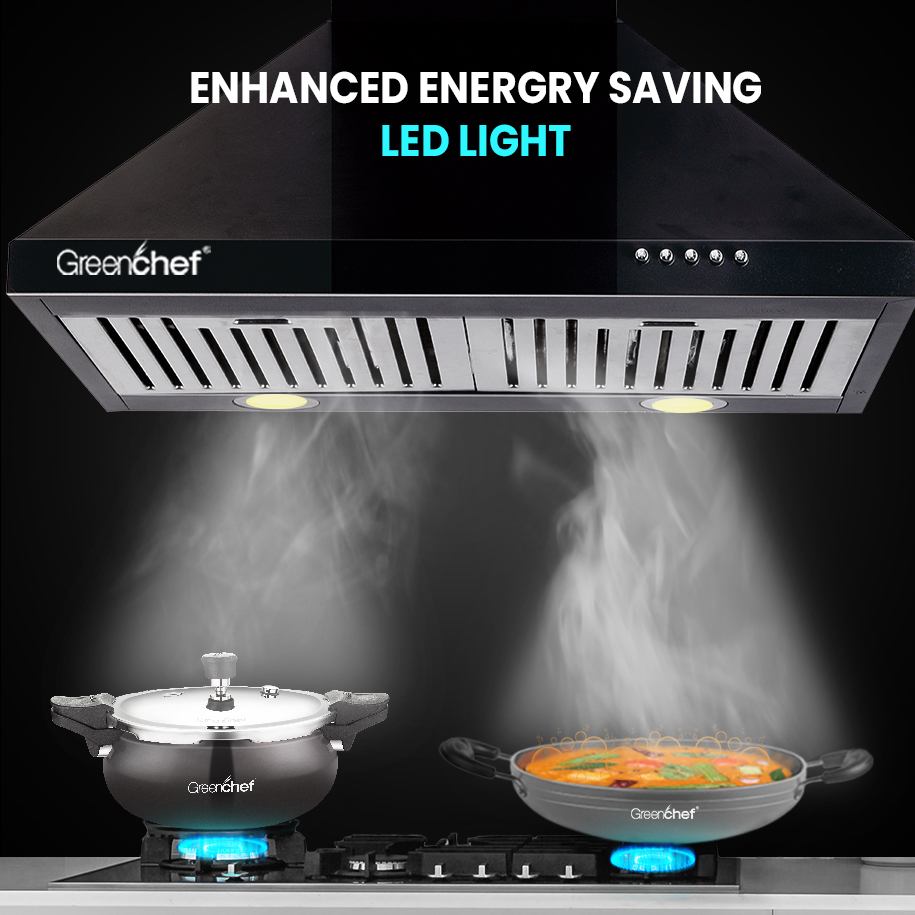 Energy Saving LED Light
The chimney comes with an 1.5W LED lights that lights up your area by using an energy-saving solution and by giving an additional look to your kitchen by mounting directly below the wall mount range hood which helps you to see better in the darker light . By switching on the LED lights you can brighten up your cooking to prepare the delicious food.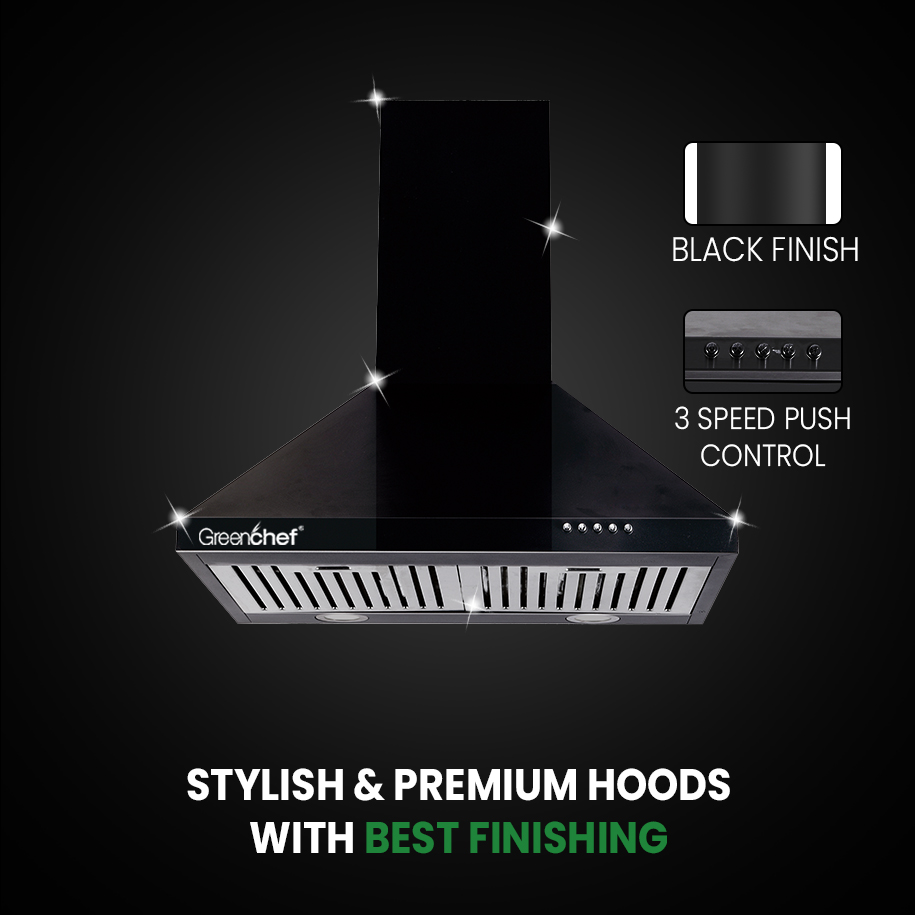 Stylish & Premium Hoods
The beauty of your kitchen can be enhanced by installing this stylish Greenchef Acura chimney that adds a modern touch by its pyramid design and a black finish by ensuring to recreate the décor of your kitchen. The pyramid compact design of this chimney can be easily mounted that gives smoke free surroundings.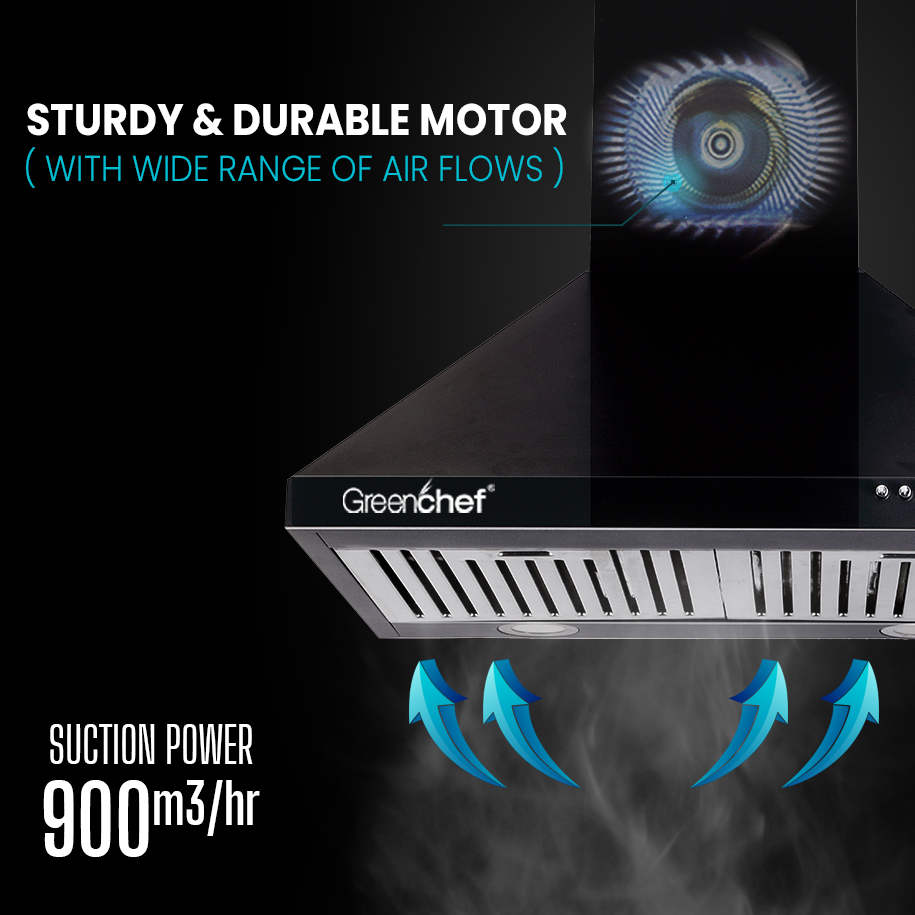 Sturdy & Durable Motor
Greenchef Acura chimney comes with sturdy & powerful motor that ensure efficient suction capacity. This powerful chimney  ensures long durability by consuming less power makes less noise. Designed with capacity of 900m³/hr  helps in hassle free cooking by observing the smoke and dust.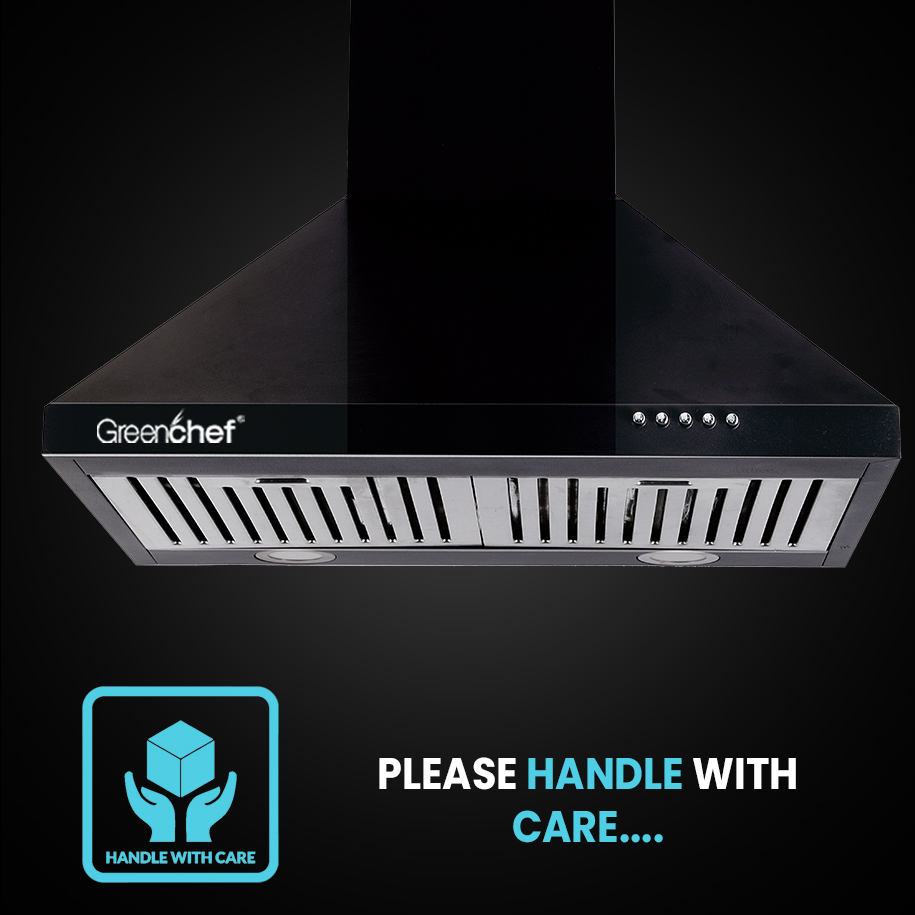 Handle with Care
As this chimney is very delicate product we should use proper lifting and fitting techniques and should not let any surface bump more careful for the edges and corners while mounting the chimneys. Do not let any surface bump or hit the chimney edges or corners. Never lift the chimneys by the rail. Chimney gives better performance if the correct ventilation flow, alonfg with the hood installed properly.
Ratings & Reviews
Have doubts regarding this product?