Greenchef Electric Cooker RC 0.6Ltr Carlo
₹2,166.00
(Inclusive of all taxes)
Availability: In Stock
Cool touch handles
Indicators for warm and cook modes
Stainless-steel lid
Control Panel
Hassle-free mechanism
| | |
| --- | --- |
| Model | Carlo |
| Package Weight | 3 KG |
| Wattage | 700W |
| Capacity | 1.9kg |
| Warranty | 5 Years warranty on the heating element |
| Color variants | Red, Blue, Green, Yellow |
| Capacity variants | 0.3L,0.6L,1.2L1.8L & 2.8L |
| Functions | Cooking, Steaming, Keep Warm |
| Included Components | Stainless steel lid, Aluminium pan, Scoop & Measuring Cup |

Greenchef Carlo Electric cooker – 0.6L
Rice cooking is now a snap with the Carlo electric rice cooker. It's easy to do, just add the rice and water to the cooker. It produces well-cooked rice in under a few minutes. Its electricity consumption is only 700 watts per hour. The Carlo rice cooker from Greenchef eliminates the need for supervision while cooking rice. Its simple to use and consumes less than 700 watts of electricity a day. This electric rice cooker has a capacity of 0.6 litres and can cook rice up to 400gms at a time. It can also prepare various kinds of food items like pulao, porridge, soup, and idlis.The rice cooker's Warm and Cook modes keep the rice moist and warm for up to 4 hours. Its two indicators allow the user to control the temperature and cook the rice. The lid features a steam vent to prevent the rice from getting too hot and causing the steam to escape.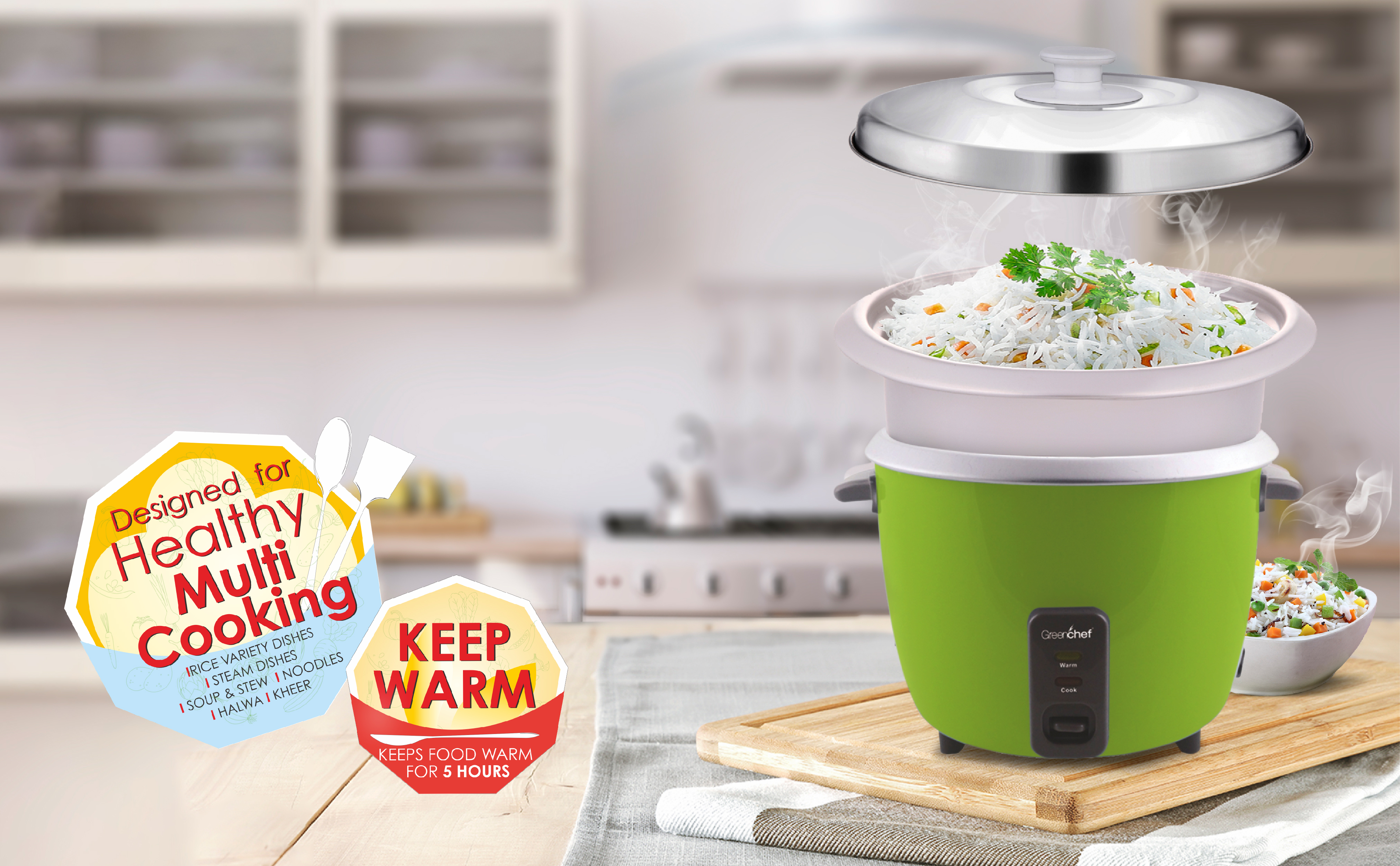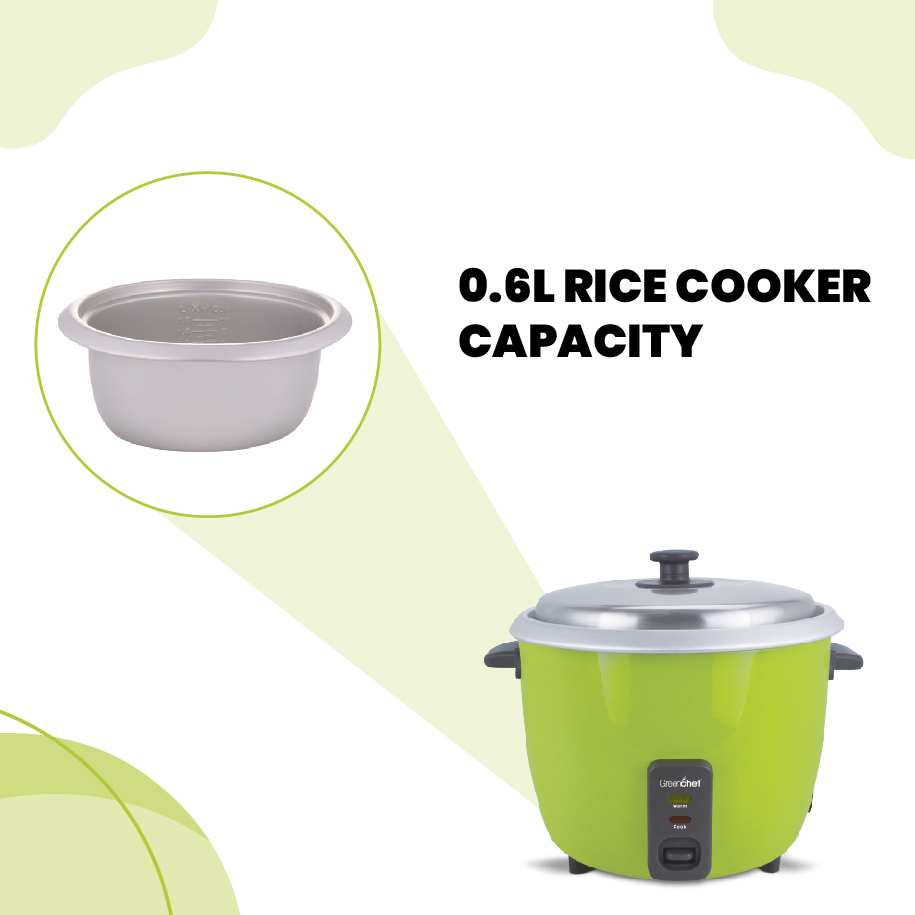 0.6L Cooker Capacity
The cooker has a capacity of 0.6 liters and can cook rice up to 600gm at a time. Along with it, you can also cook porridge, soup, pulao, vegetable stew, and idlis with this 700-watts electric rice cooker.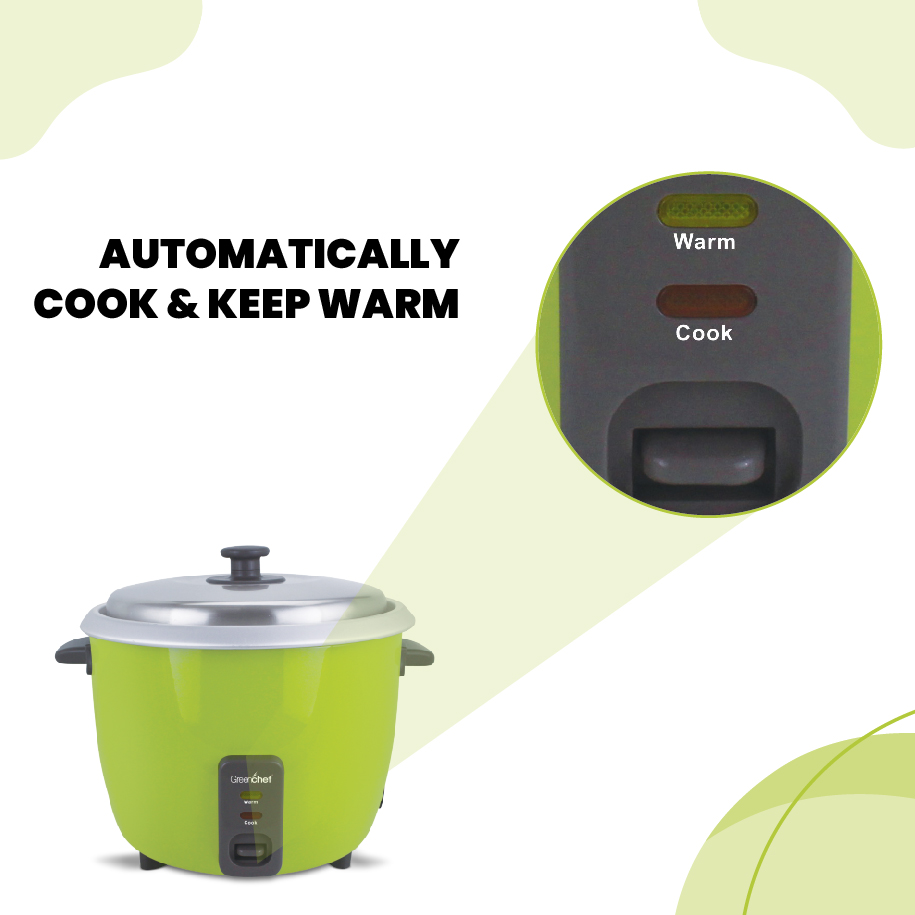 Control Panel
The control switch helps in automatic cooking i.e., after the rice is cooked it automatically shifts to "Warm" mode. The "Warm" mode keeps rice moist and warms for up to 4 hours. It also houses two indicators- Cook and Warm. Thus, making it user-friendly.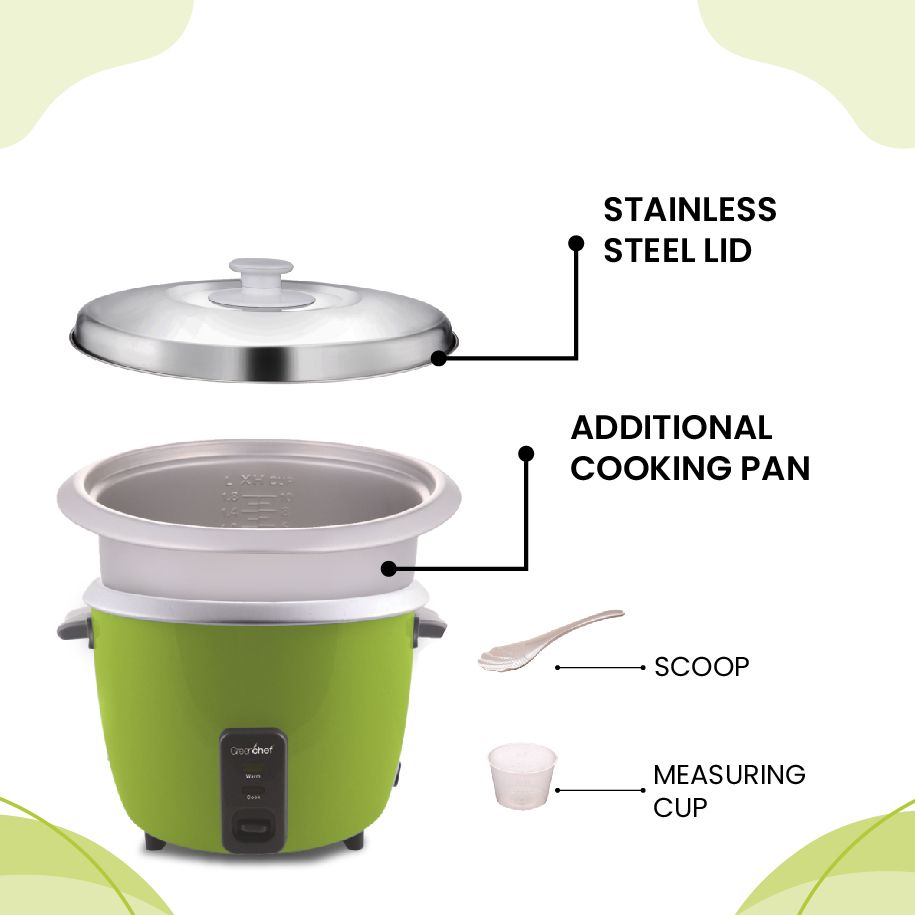 Comes with Attachment
The electric rice cooker is accompanied by food-grade accessories such as one aluminium pan, a measuring cup, rice scoop, and a stainless-steel lid to ensure safe cooking standards. Keeping safety in mind, the rice cooker comes with cool-touch handles. The lid is provided with a steam vent to allow the steam to escape preventing lathering and overflow of rice.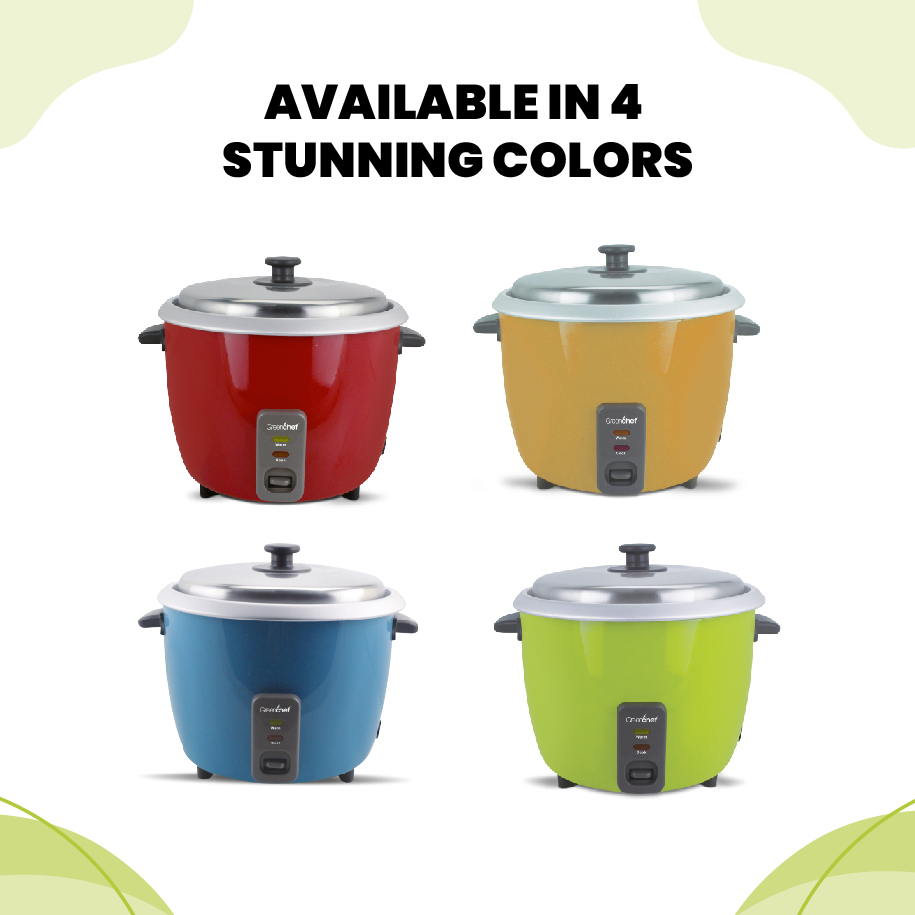 Available in 4 colors
This Greenchef rice cooker comes in 4 different stunning colors i.e., red, blue, yellow, and green, that can uplift the interiors of your kitchen without doing much. The Greenchef Electric Rice Cooker makes an apt choice for preparing a variety of rice delicacies.
Ratings & Reviews
Have doubts regarding this product?