Greenchef Gas Geyser 6ltrs Glory
₹7,333.00
(Inclusive of all taxes)
Availability: In Stock
Gas : Uses LPG Gas to instantly heat water, cost-effective
6 L: Greater the Capacity, more the users can be served for bath/wash
0 Bar: Pressure rating >8 bar is suitable for High Rise buildings
Vertical: Suitable for large wall spaces
| | |
| --- | --- |
| Model | Glory |
| Capacity | 6L |
| Package Weight | 4.5 kg |
| Source  | Gas |
| Warranty | 2 Years |
| Color | White |
| Special Features | Gas, Flame & Temperature control knob, Copper Heat Exchanger, Digital display & Dry heat Protection |

Greenchef Glory 6L LPG Water Gas Geyser (White)
Enhance the look of your kitchen with the charming design of the Greenchef Acura kitchen chimney! This chimney is your ticket to a hassle-free cooking experience. Continuous exposure to smoke and strong aromas affects your health, this chimney is designed to suit your needs. This chimney promises you a power-packed performance always. This compact and elegantly designed chimney has attractive features and impressive performance. It enables smoke and dust-free cooking as it comes with an airflow capacity of 900m³/hr. With 2 LED lamps, it gives the perfect amount of light for your cooking and provides ease of operation with push-button controls. This chimney adds a modern touch to your kitchen. With the illuminated push-button controls, it's as easy as the push of a button to control the power, lights, and 3 fan speeds of this range hood by Greenchef. Choose from high, medium, and low suction to suit a variety of foods and cooking. Featured with a baffle filter that enhances the utility by eliminating unhealthy smoke and greasy things from your kitchen. The baffle filters keep the kitchen smoke & oil-free. The filters are also easy to clean & maintain. This chimney makes less noise to provide you with a comfortable cooking environment. It easily gets fitted in the wall of your kitchen that also acquires less space will appearing contemporary.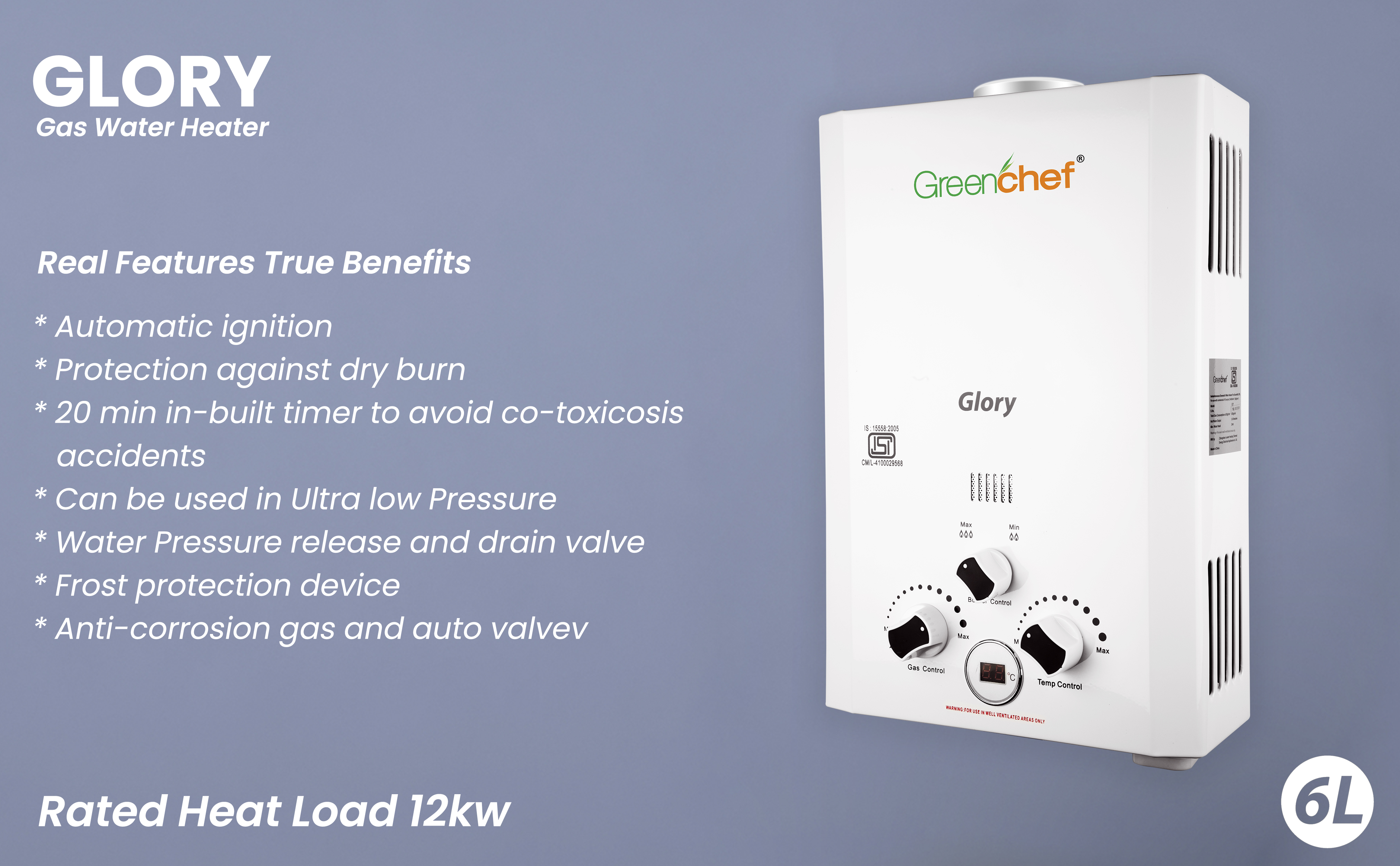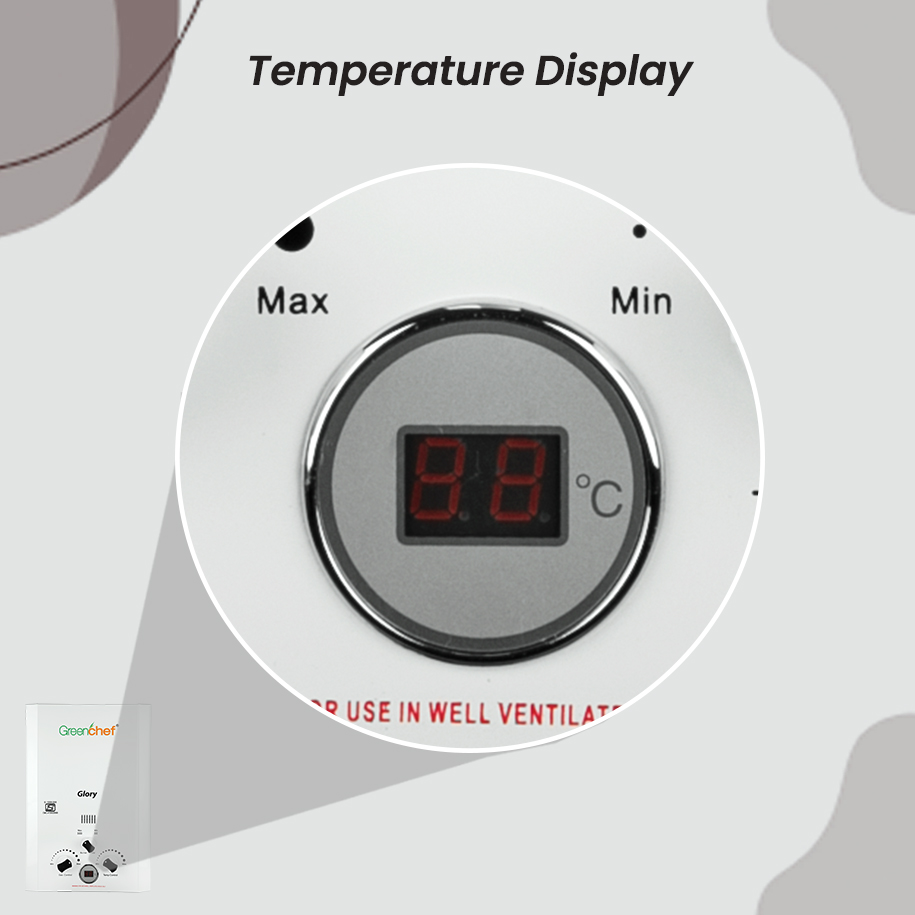 Temperature Display
Greenchef Glory gas geyser comes with a digital display for visual indication of the temperature of the water. Enjoying a hot-water bath in the morning is made easy with this 6L instant-water geyser from Greenchef.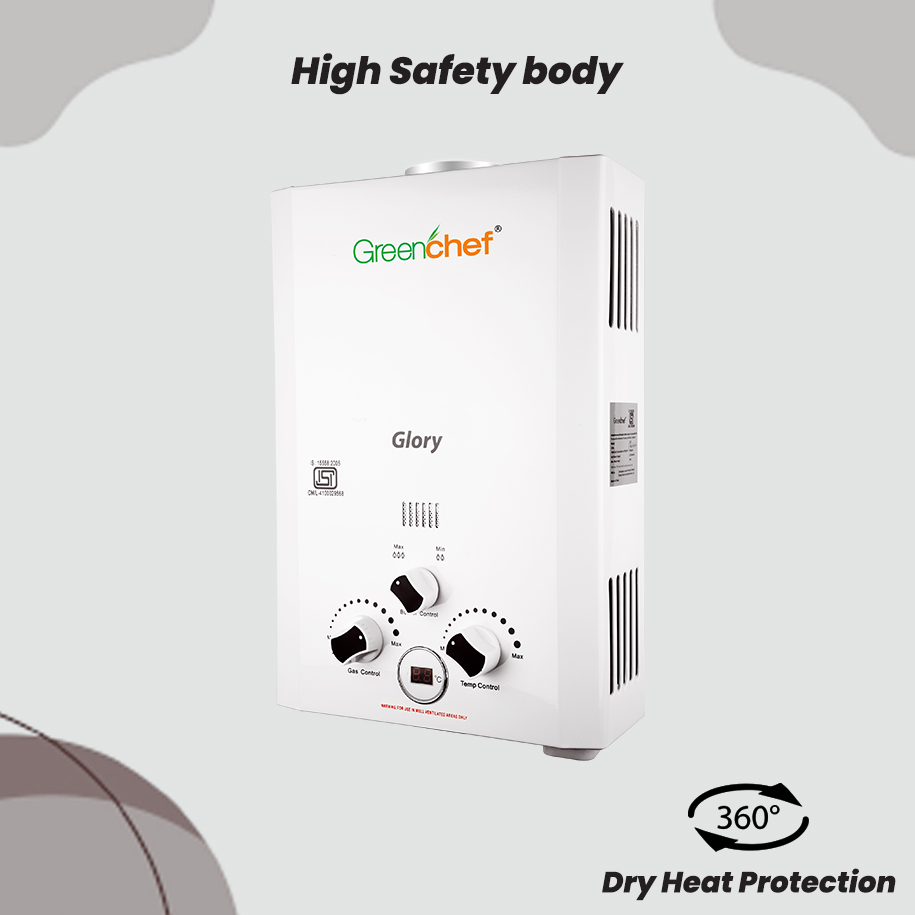 High Safety Body
This gas heater by Greenchef comes with a metal body that makes it last longer even after staying in the humid environment of the bathroom. the Greenchef water heater offers a winning combination of performance, convenience and, style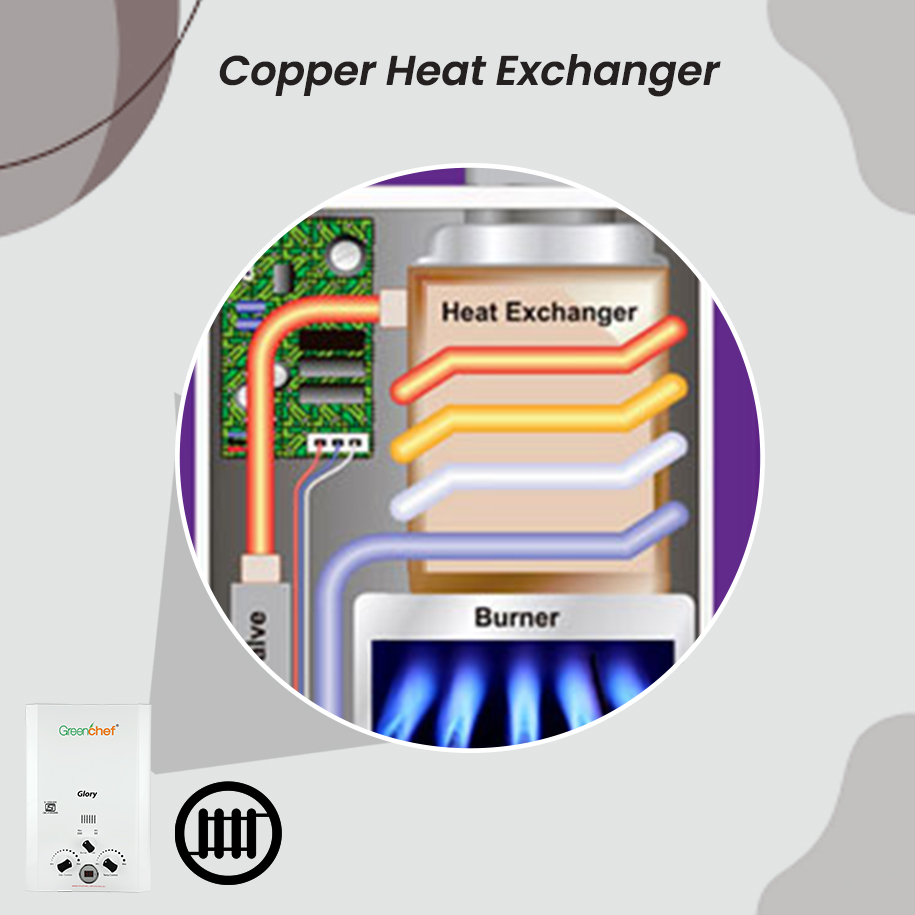 Copper Heat Exchanger
With the copper heat exchanger which is fixed in this gas water heater, you will never run out of hot water. This copper heat exchanger provides you 6 liters of hot water per minute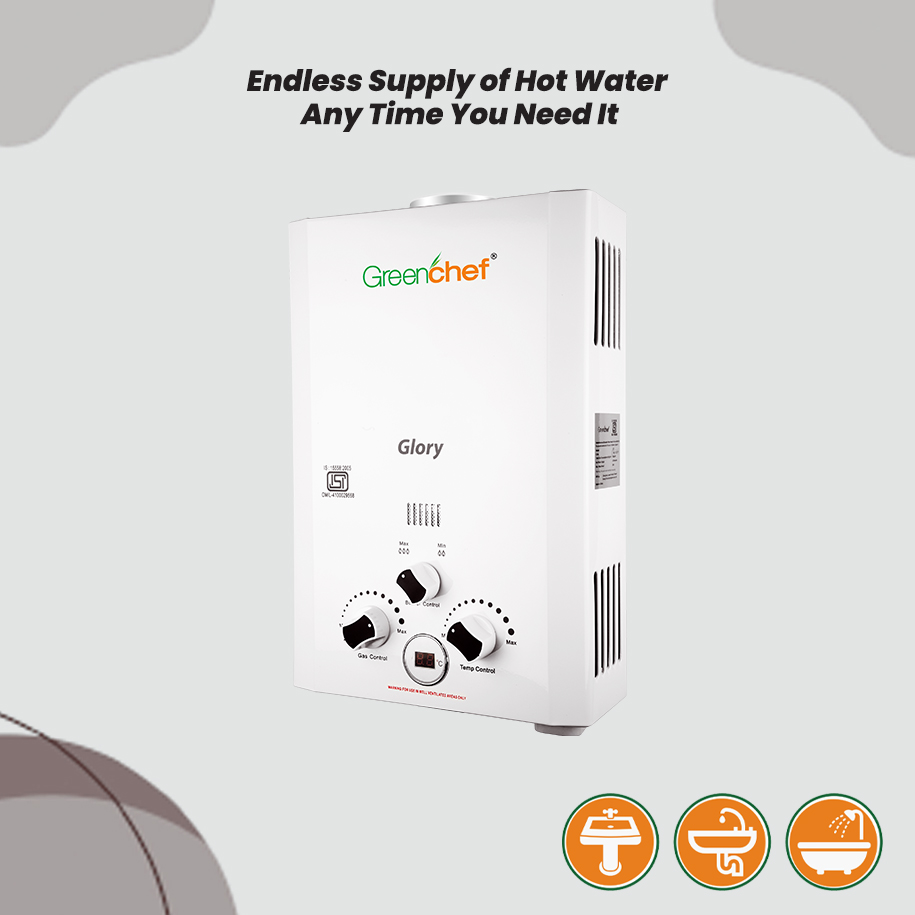 Endless Supply of Hot Water
Geyser starts heating the minute you turn on the tap, and keeps steady until you turn it off! You're no longer stuck rushing through a shower or staggering your morning routines so everyone gets a bit of hot water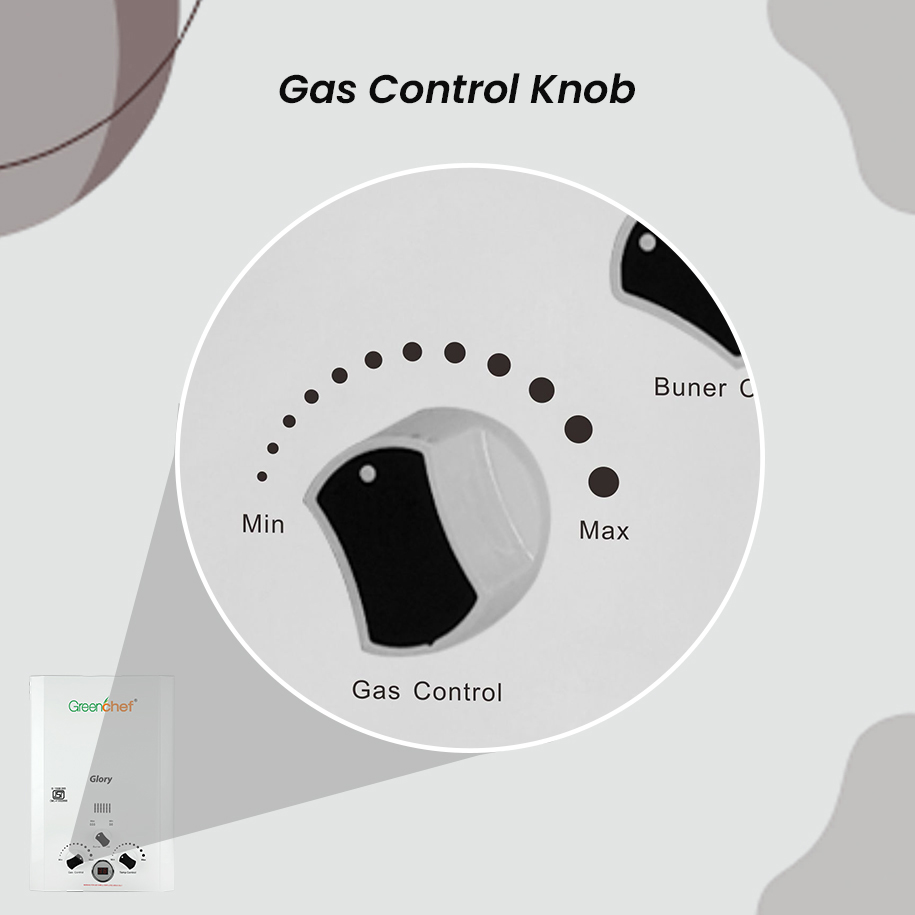 Gas Control Knob
This gas water heater comes with adjustable knobs which help the users to adjust the gas flow. These knobs help you get the perfect hot water every day.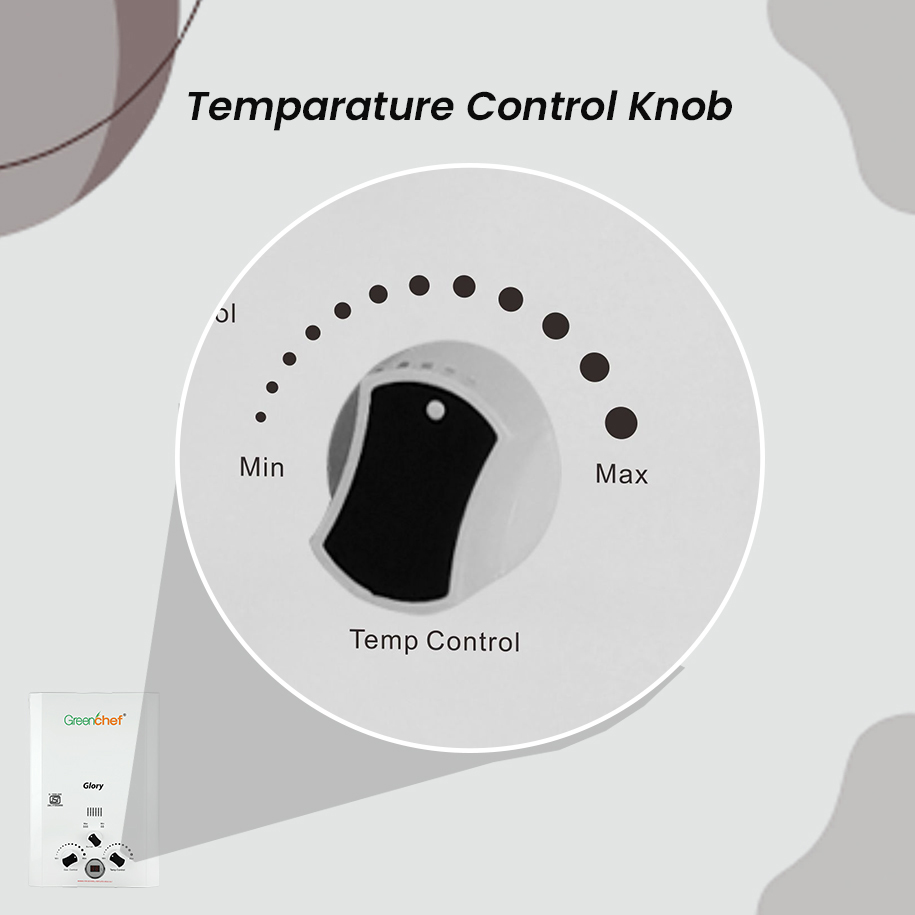 Temperature Control Knob
This gas water heater comes with a temperature control knob. With this knob, you can set the temperature of water from the outlet at ease and as per your requirement, from warm, to mildly hold to very hot
Have doubts regarding this product?