Greenchef Glass top Blaze 2Burner
₹4,999.00
(Inclusive of all taxes)
Availability: Out of Stock
Two jumbo brass burners
Toughened glass
Sturdy pan support
Backlit Knob
Elegant knob for firmer grip
Attractive Design
| | |
| --- | --- |
| Model | Blaze |
| Package Weight | 5.7kg |
| Warranty | 2 years |
| Number of Burners | Two(2) |
| Burner type | Jumbo brass burners |
| Product Dimension | 70*36*9 cm (L*W*H) |
| Nozzle | 360-degree (backside) |
| Glass Thickness | 6mm |
| Ignition type | Manual |

Greenchef Blaze 2 Burner Glass Top Gas Stove
Greenchef Blaze Gas Stove comes with a stylish design crafted with a stainless-steel body and glass top which is a glass top of 6mm toughened white colour that converts your kitchen look to the modern kitchen and perfect elegant look. And also it takes lesser space of your countertop. This glass top gas stove is thoughtfully designed with two distinct sized highly efficient jumbo burners to make you easy and to save your time. The flame perfectly distinguished to the base of the vessel. This perfectly helps you in your kitchen decor at an affordable price and also gives you the best experience in cooking.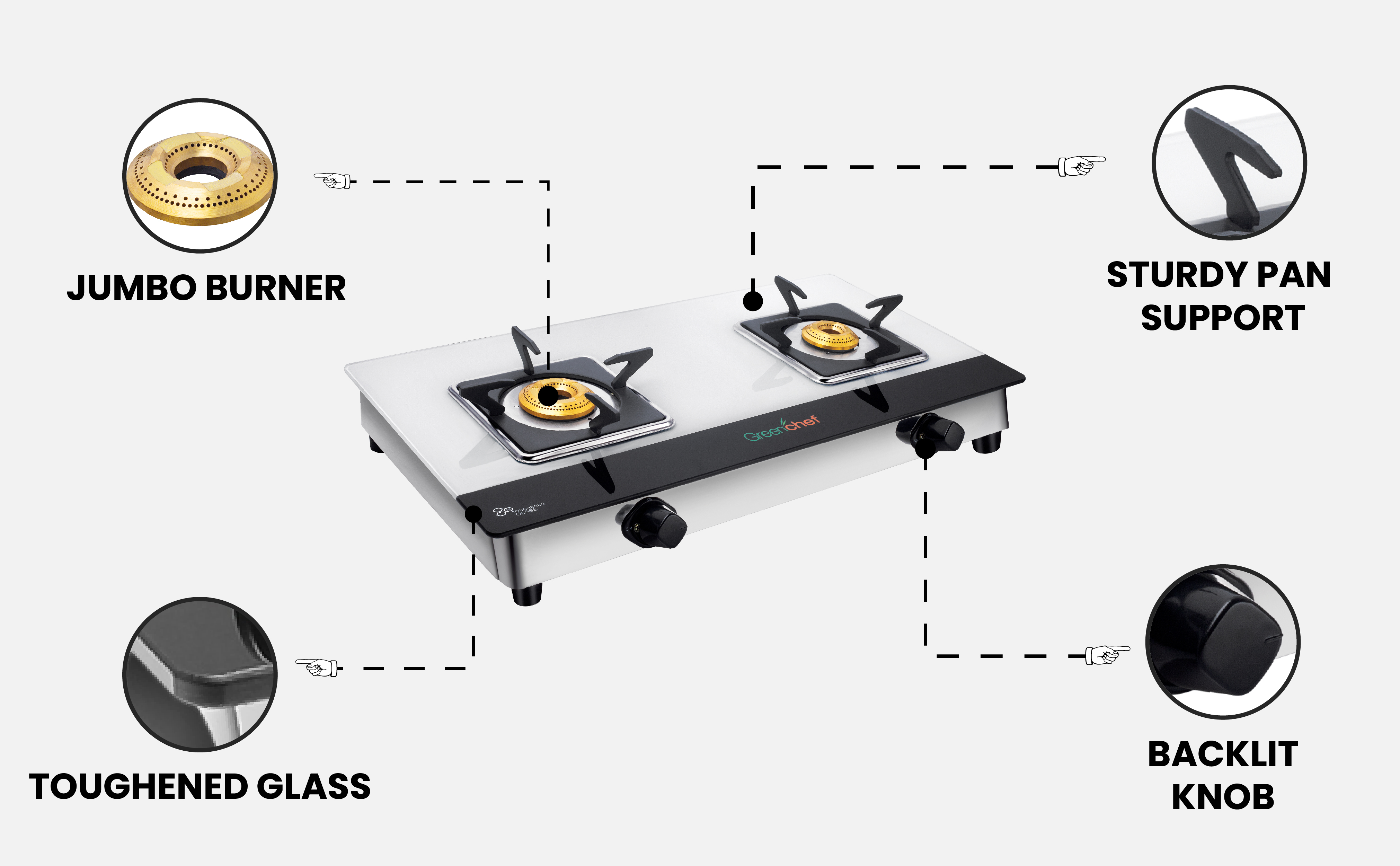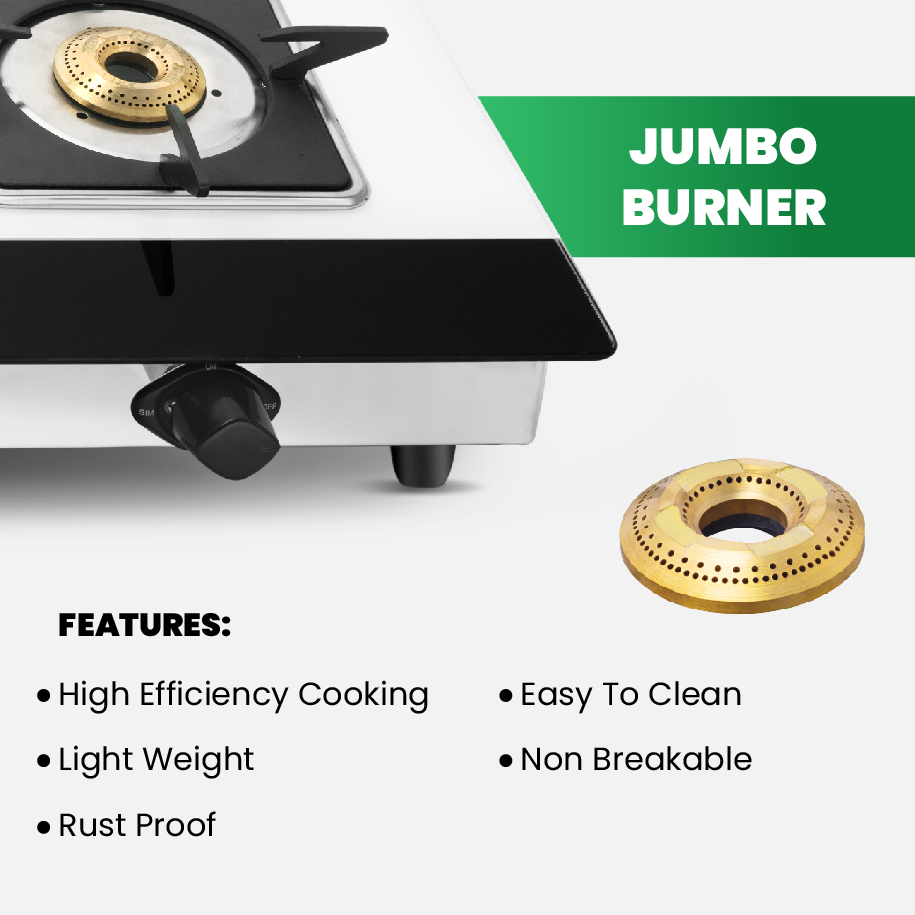 High-efficiency Jumbo Burner
Specifically designed to suit different types of cooking types to support different sizes and shapes of the cooking vessel, the Greenchef cooktop comes with a jumbo burner to keep up large utensils. With safety, it also delivers resistance from corrosion and high heat. The cooktop is featured with 4 Distinct Sized Burners. These burners are highly efficient and non-breakable.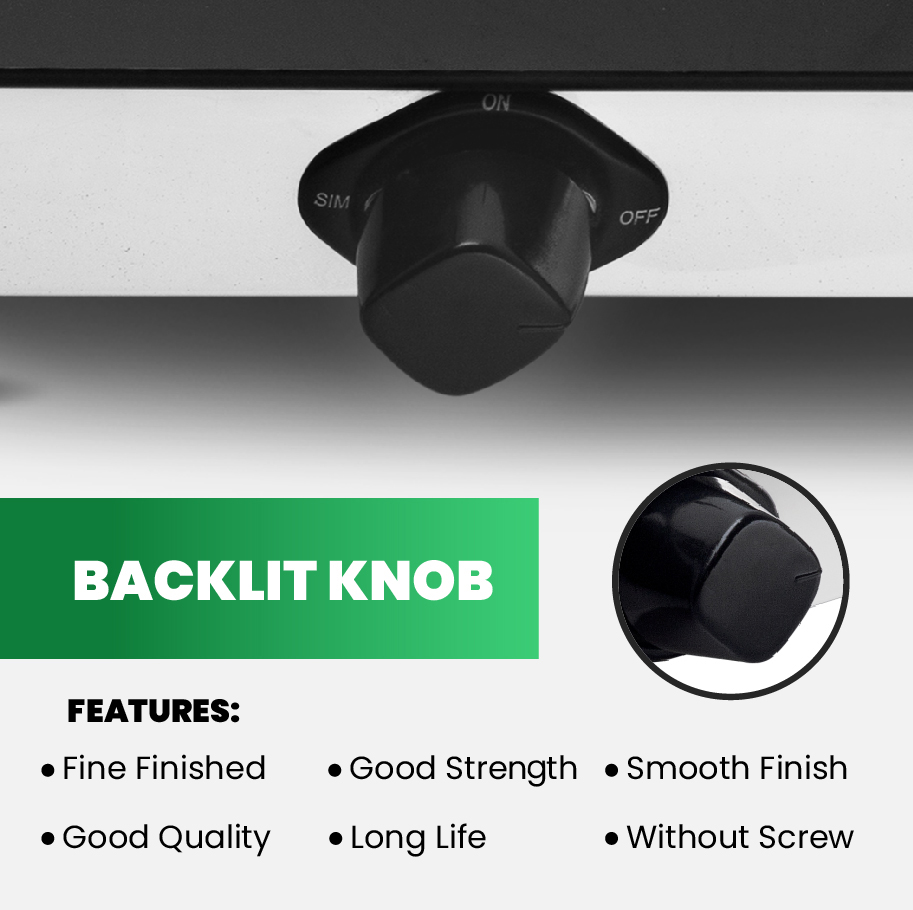 Backlit Knob
Greenchef Blaze gas stove comes with a smart and elegant knob for a firm grip. These knobs are strong and sturdy to use. The knobs are made heat resistant for longer cooking durations unique to Indian cooking. They ensure smooth functioning, precision flame control and, safe usage while cooking.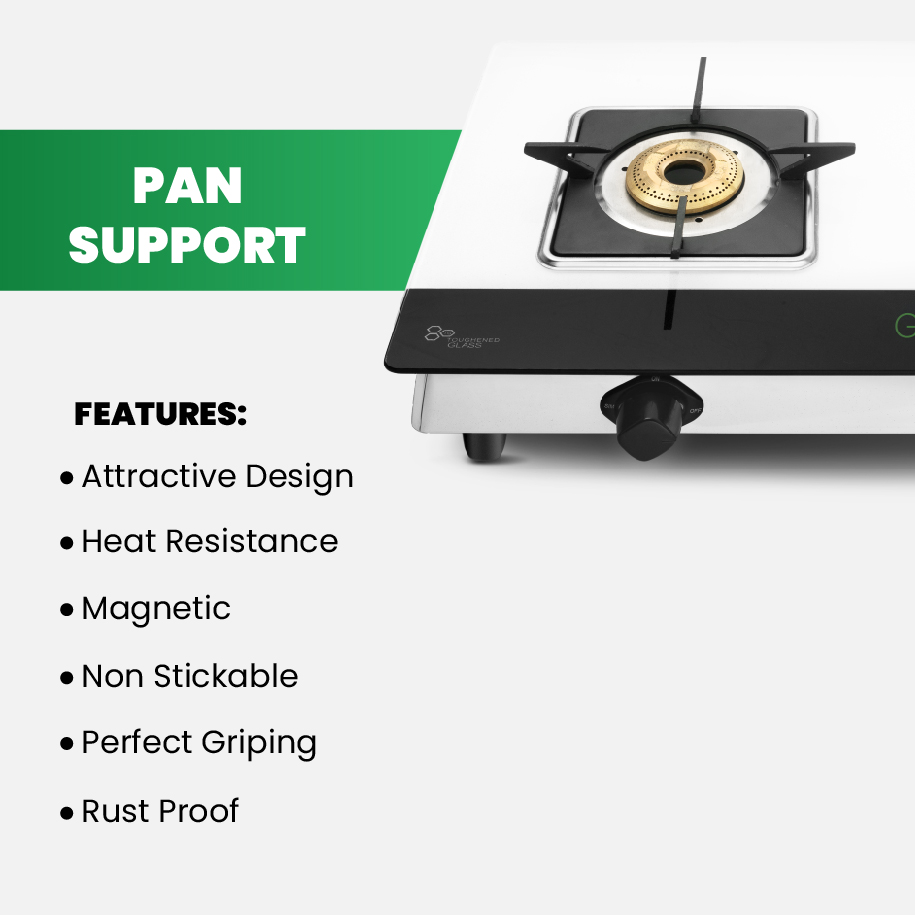 Thick Pan Support
Pan supports which easily accommodate large and heavy vessels. Greenchef Gas stove pans provide durability and maximum stability for pots and pans and they maintain their balance on the stove and do not fall off easily. These thick pans hold perfect griping, rustproof and attractive design.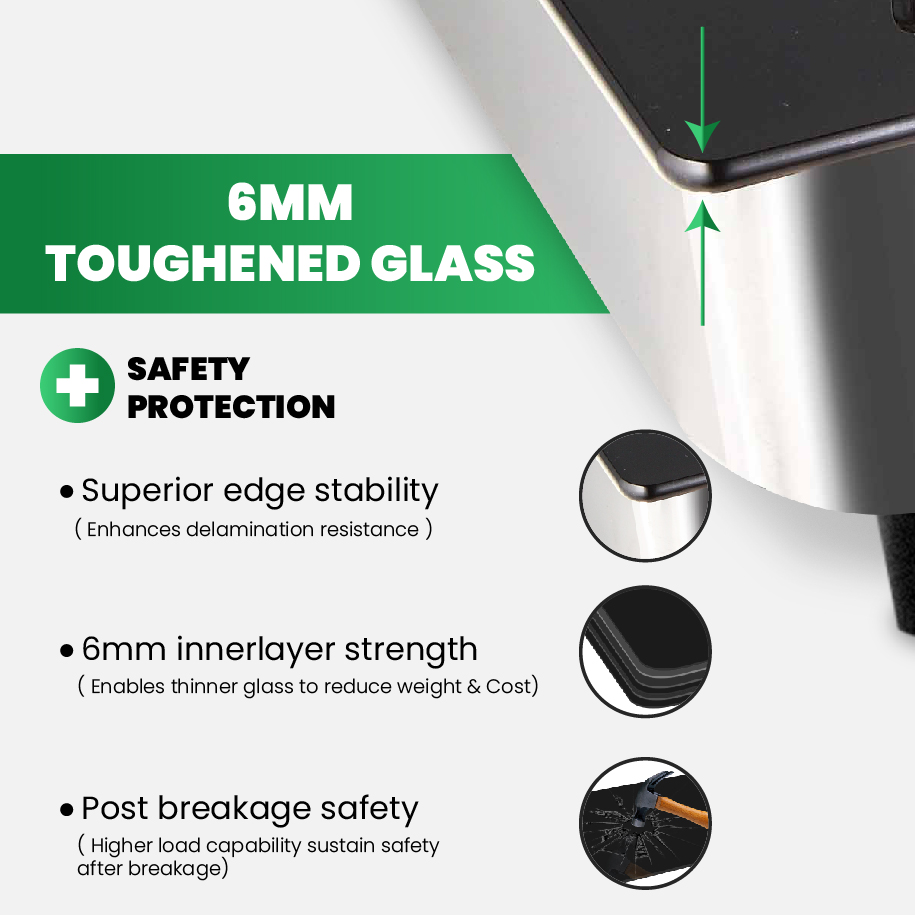 6mm Toughened Glass
This Gas stove has toughened White Glass 6mm edge glass finish, which is non-breakable. The glass finish is not only durable and long-lasting but also beautifies the aesthetics of your kitchen. The Toughened White Glass is easy to clean, heat, and also scratch resistant.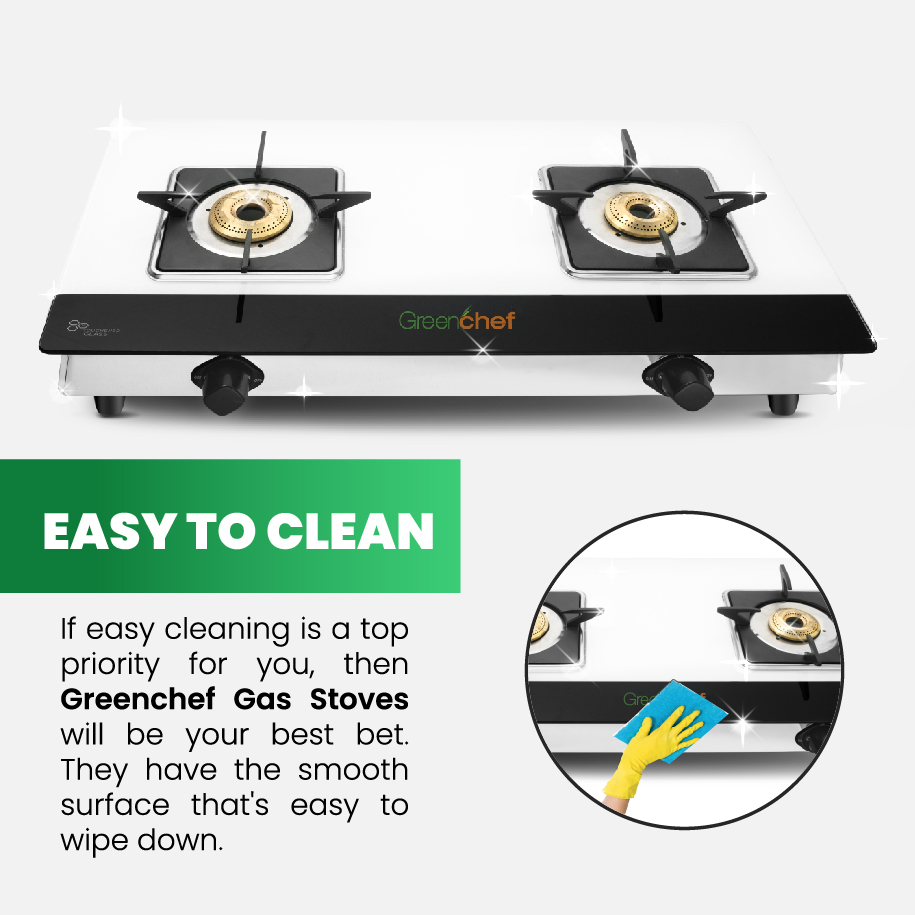 Easy to clean
The Greenchef gas stove has a smooth surface that is easy to clean and maintain. One of the big challenges while cooking is maintaining a clean kitchen, this stove can be cleaned very easily by using a wet cloth. This helps in keeping your kitchen clean as soon as you are done cooking.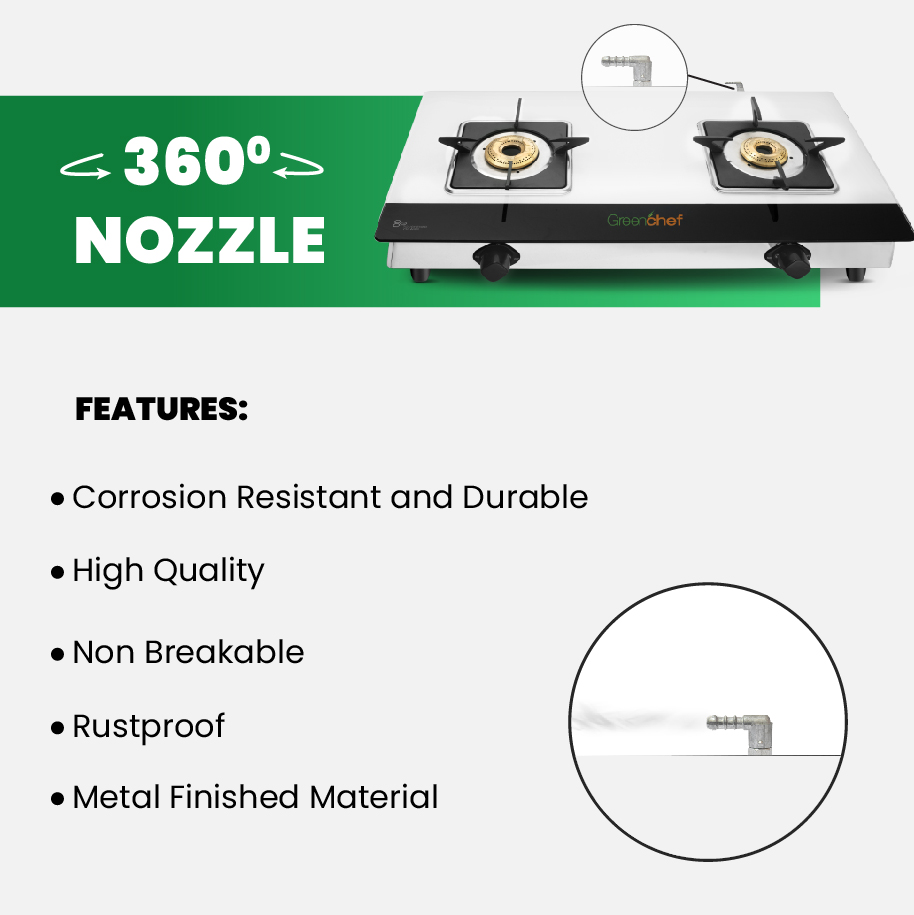 360-degree Nozzle
Greenchef gas stove comes with a high-quality nozzle that is non-breakable and rustproof. It helps in connecting to gas without bending the pipe. This gas stove is equipped with a 360-degree nozzle, it enables you to place the cylinder on any side at your convenience.
Ratings & Reviews
Have doubts regarding this product?