Greenchef Satura pressure cooker & Non stick Combo 4 in 1 cookware set Induction Base
₹2,666.00
(Inclusive of all taxes)
Availability: In Stock
Made of Aluminium
Pressure Cooker, Tawa, Kadhai
Non-stick Coating
Dishwasher Safe, Induction Bottom, Lid Included
Induction base supports
| | |
| --- | --- |
| Model | Satura |
| Package Weight | 5.19kg |
| Warranty | 1 year |
| Package includes | Tawa, cooker, mini pan & Kadai |
| Dishwasher Safe | Yes |
| Lid Included | Yes |
| Capacity | Pressure cooker - 5L Junior: Pressure Cooker Pan - 3L: Tawa - 285mm: Kadhai - 240mm |
| Induction Supports | Yes |

Greenchef Satura Combo 4 in 1 cookware set
Greenchef Satura 4 in 1 Induction base cookware combo comes with 5L Cooker, mini pan, Kadai, Tawa and a single glass lid to help you cook fast and efficiently. The Cooker and mini pans are made from aluminium. Sturdy Bakelite handles provide extra grip and comfort, making them ideal for regular use. Ergonomically designed, made through food-grade virgin aluminium that stays bright, does not corrode. Tawa and Kadai have high-end non-stick coating make the cookware set last long. These cookwares are easy to clean and extremely hygienic. Greenchef Satura 4 in 1 combo products are strong, safe and durable. These combo products have an Induction base, which makes them capable of being used over gas as well as induction. Make delicious meals with the help of these combos.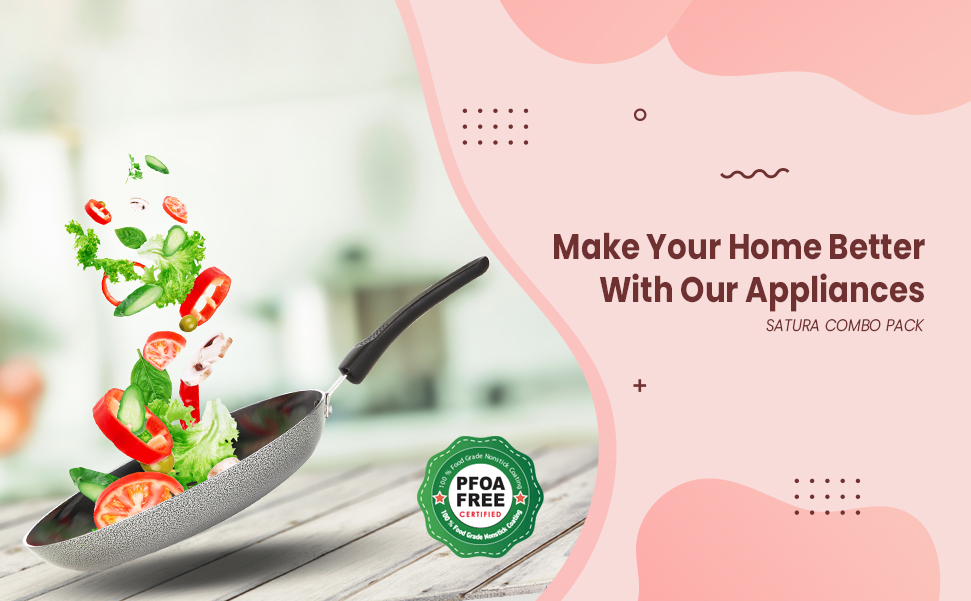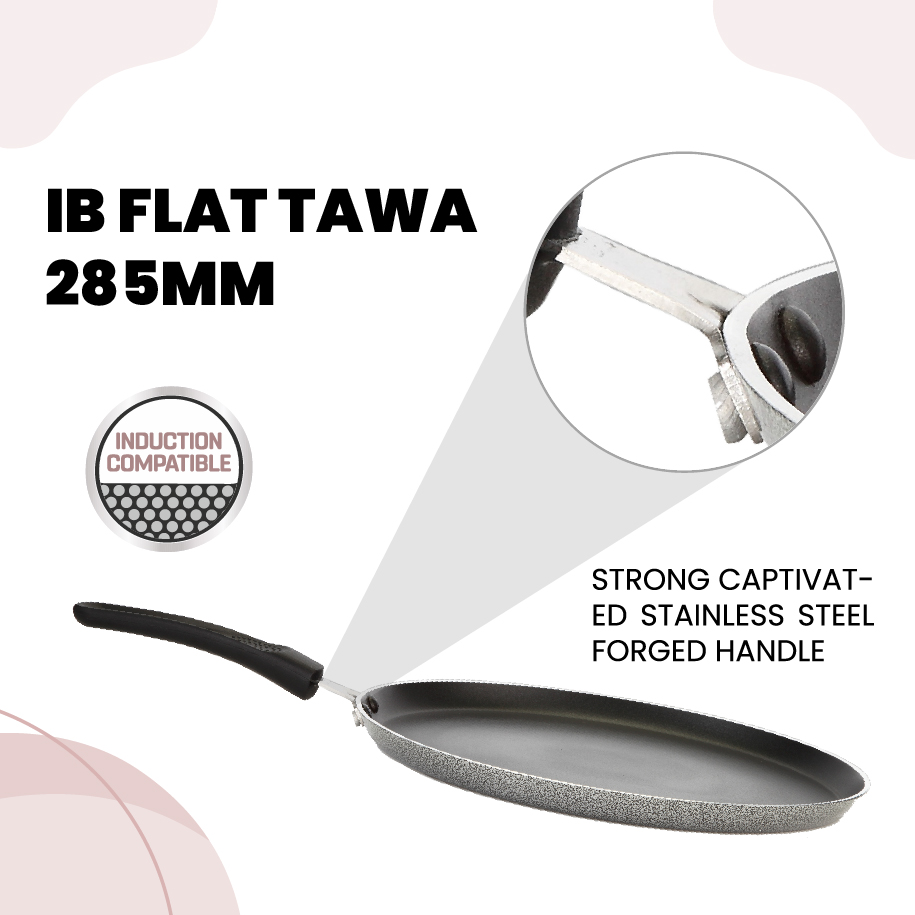 Induction base Flat Tawa
Greenchef Pans are crafted from pure grade aluminium. This Non-Stick Tawa has a diameter of 285mm. This pan heats up quickly and cooks your food more evenly. It also ensures non-stick cooking which makes it perfect for any dish with less oil. The Tawa has an ergonomic bakelite handle. This helps get a good grip as the handle stays cool even while cooking. This Tawa is both gas and induction compatible.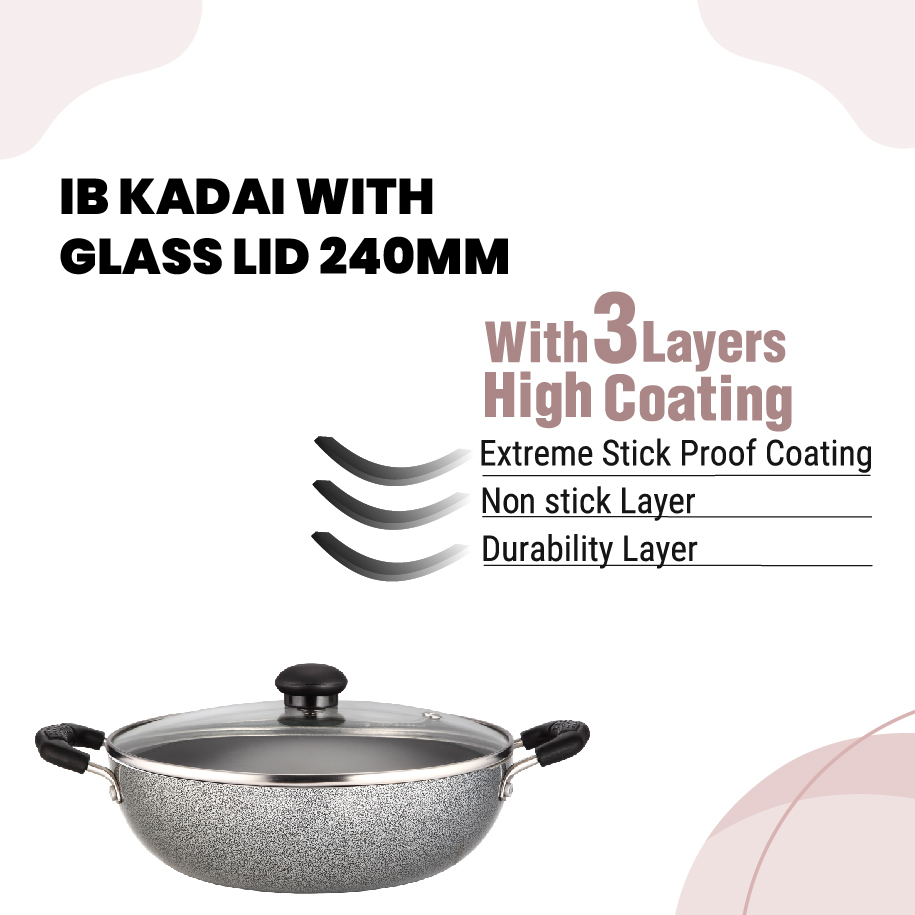 IB Kadai
Compact and stylish non-stick induction base deep Kadai with glass lid is a great addition to your modern kitchen. Sporting a strong and sturdy make owing to its Non-Stick body, this Kadai assures smooth cooking due to its non-stick nature. It comes with a transparent lid that allows monitoring of your food and keeps it hot for a longer time. This Non-Stick Kadai has a diameter of 240mm.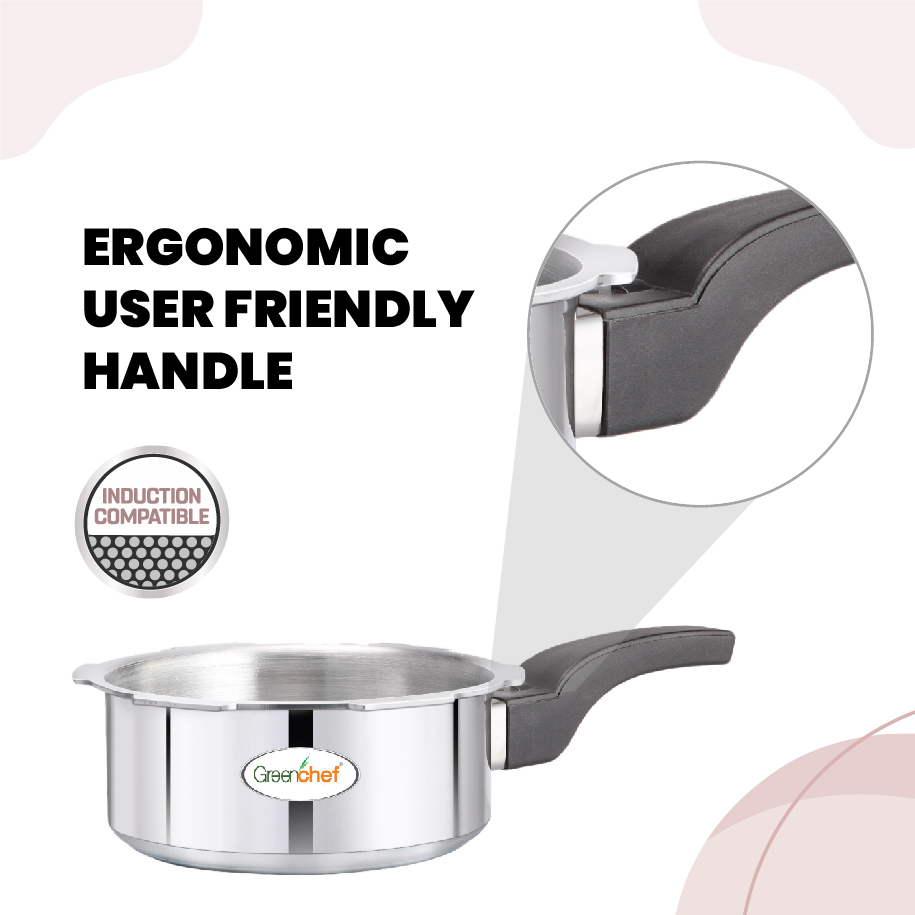 Mini Pan with User Friendly Handle
Mini pan made from high-grade aluminium, the pan has strong, heatproof and Bakelite handle Ergonomic user-friendly handle for better and safe gripping. This pan is suitable for Induction cooktops and gas, this versatile pan provides you maximum utility.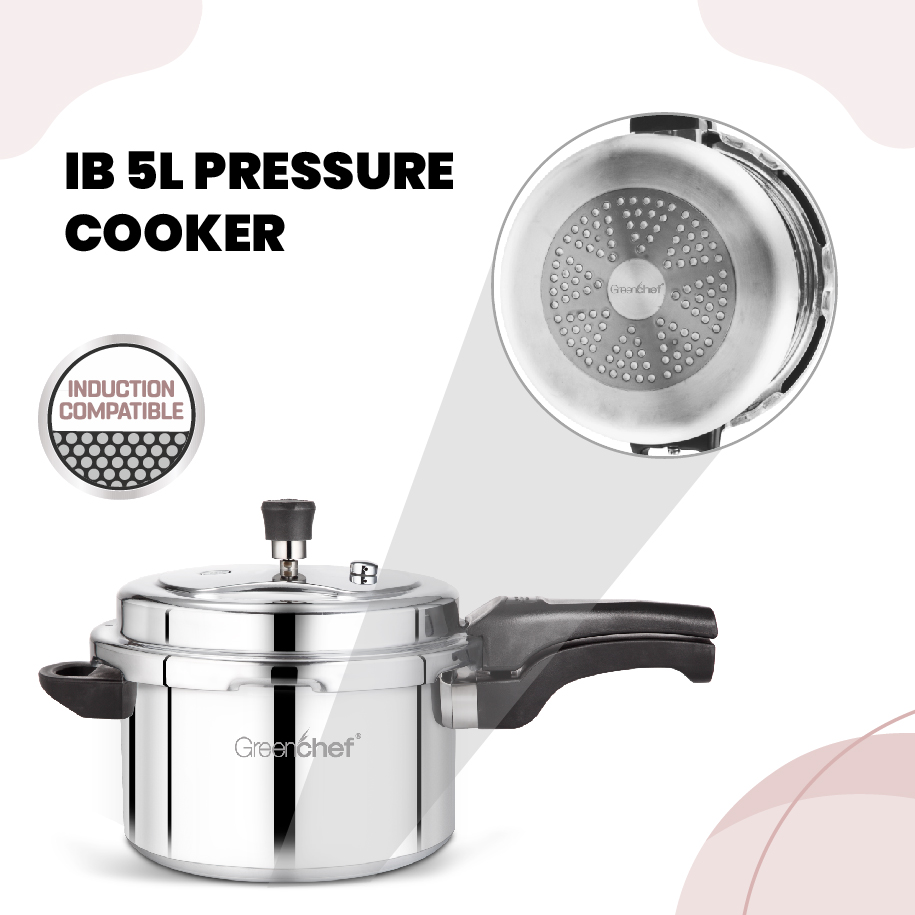 Food Grade Non-Stick Coating
Greenchef 5L pressure cooker features a heat-efficient virgin aluminium body that is corrosion resistant and durable. This aluminium pressure cooker is ideal to use on standard gases as well as induction. Also, its anti-bulging base ensures its flatness. The comfortable Bakelite handle ensures your safety and offers a firm grip. The lid of this pressure cooker has a slot to regulate and prevent the build-up of abnormal ad over-pressure inside the cooker.
Have doubts regarding this product?