Greenchef Electric Geyser 10ltrs Evok
₹8,333.00
(Inclusive of all taxes)
Availability: In Stock
Corrosion-resistant and rust-free
Geyser boasts a thermostat
Along with a thermal cut-out
Enhanced performance with more energy saving
LED indicators for Power On/Off
Suitable for large wall spaces
| | |
| --- | --- |
| Capacity | 10L |
| Model | Evok |
| Package Weight | 6 KG |
| Power Source | Electric |
| Wattage | 3KW / 4.5KW |
| Warranty | 2 Years and 5 years for tank |
| Color | White & Purple |
| Variants | 10L, 15L & 25L |
| Special Features | On & off indicators, BHPL protection tank, BEE- 5 Stars, Whirlflow technology & 8 Bar high pressure. |

Greenchef Electric Geyser 10Ltrs Evok
Greenchef Evok 10L water heater is ideal for high-rise buildings as it can withstand up to 8 bar of water pressure. This geyser is durable and long-lasting as its interior tank is made corrosion-resistant and rust-free, while the external body is made of premium-quality ABS plastic. This geyser boasts a thermostat, along with a thermal cut-out, which automatically cuts off the supply of electricity as soon the water temperature rises to the desired value. These features add to the safety of the geyser and make it more energy-efficient. Greenchef Evok geyser rated BEE five stars, with five stars meaning that it's extremely efficient and reduces your electricity bills. This water geyser uses the Whirlflow technology which prevents hot water from coming in direct contact with the cold water so you can enjoy an enhanced performance with more energy saving. This technology results in enhanced hot water output. It features convenient LED indicators for Power On/Off and heating, letting you know the status of the geyser at any time.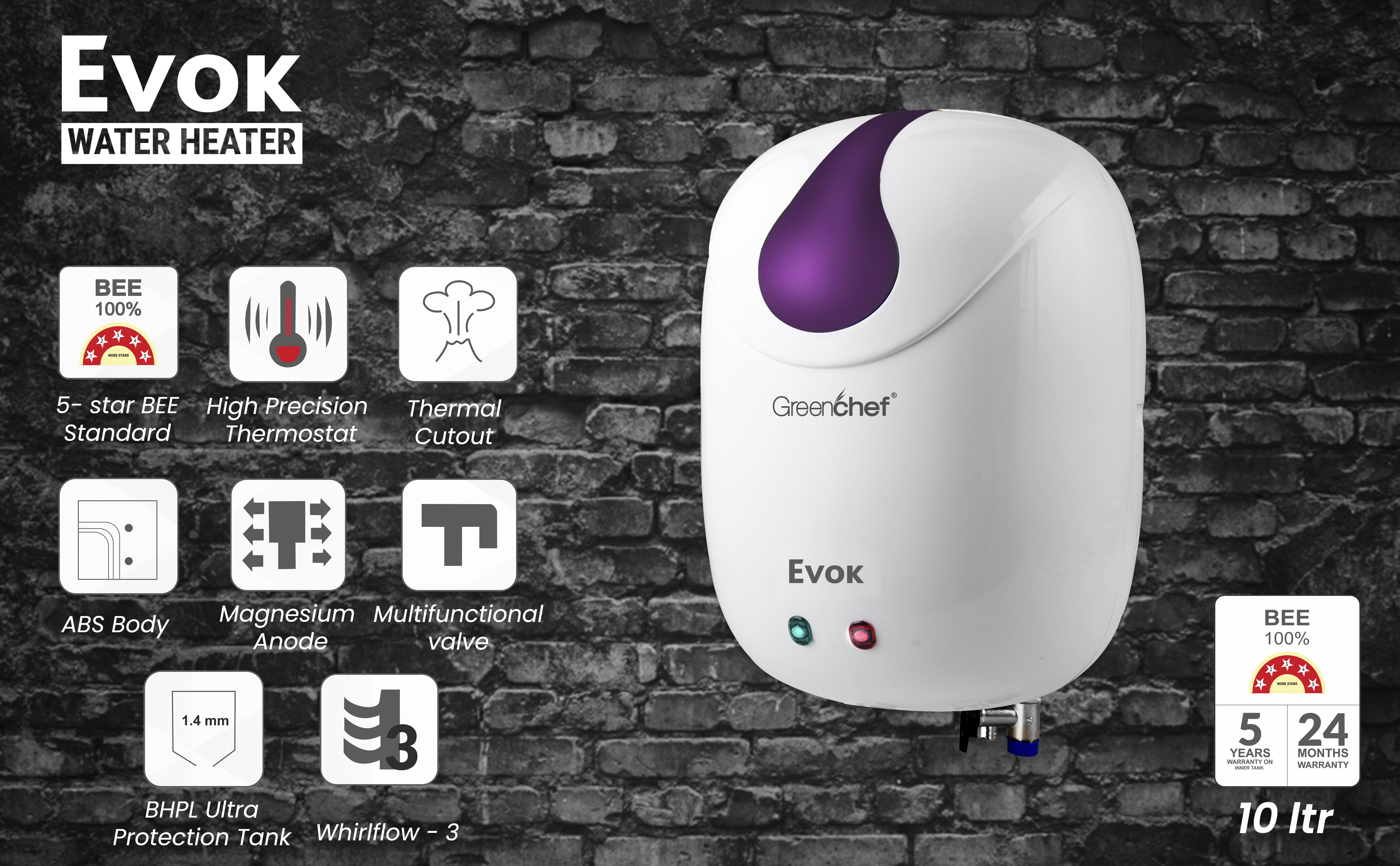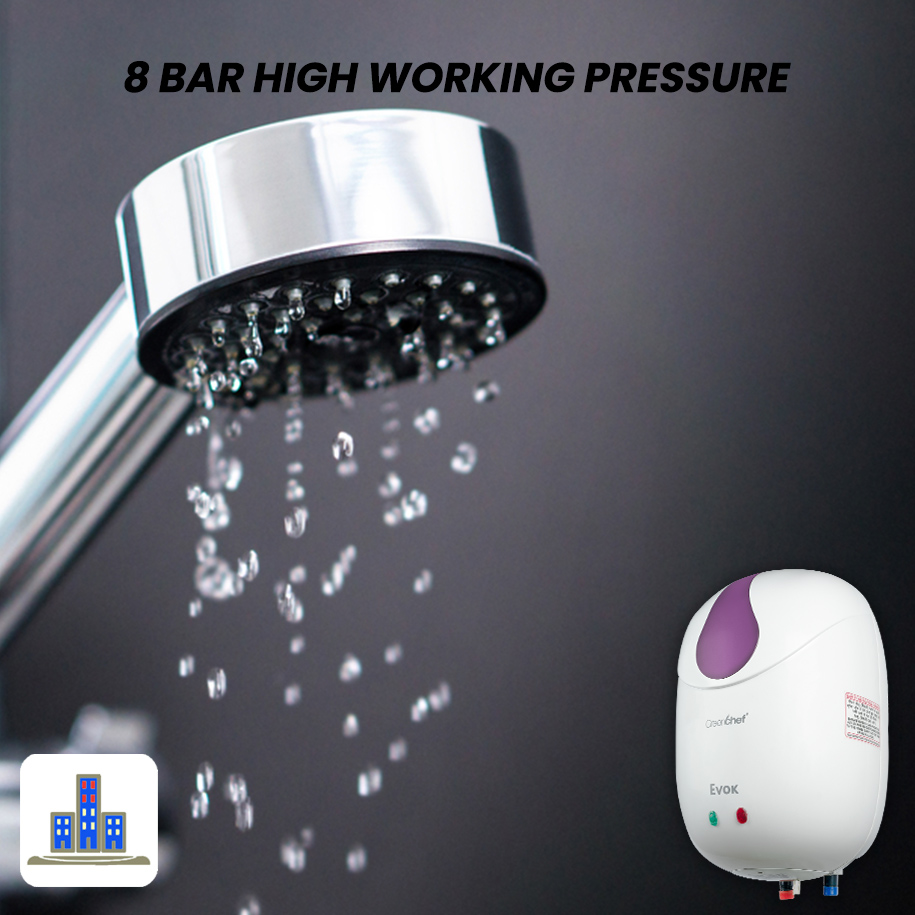 8 Bar High Working Pressure
Greenchef Evok geyser can withstand up to 8 bars of water pressure, which makes it suitable for multi-story, high-rise buildings. With 8 Bar pressure, the water heater can withstand pressure up to 8.0 kg/cm2 and is well suitable for high rise building.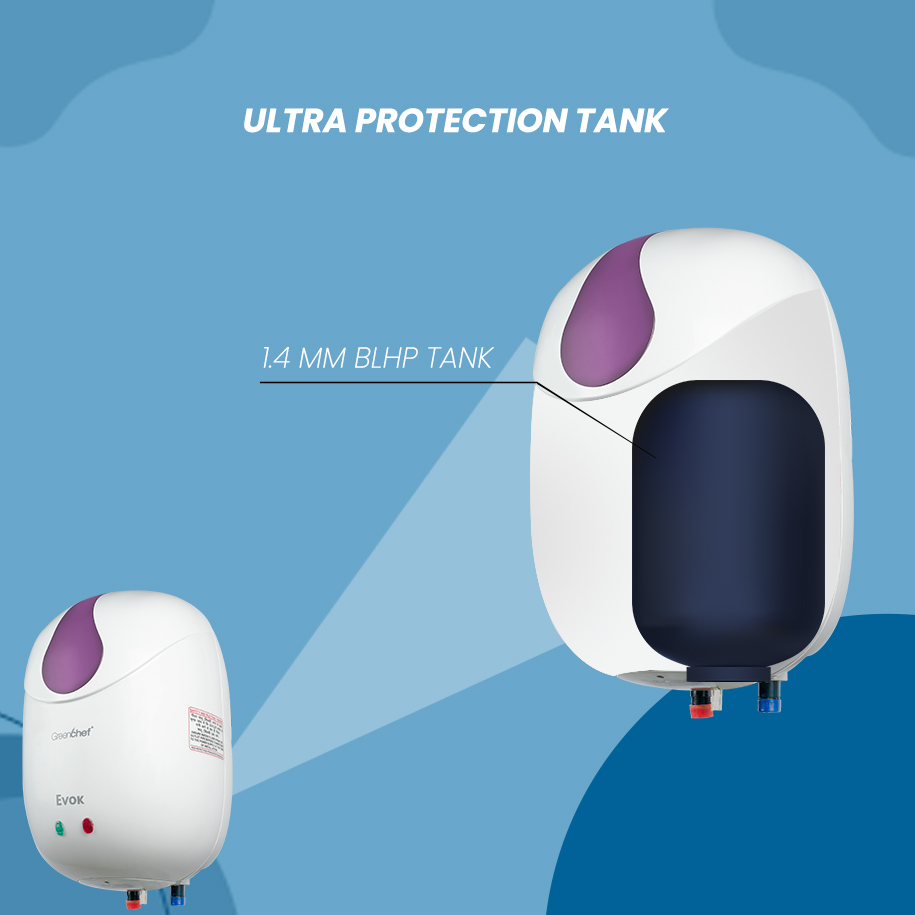 Ultra-Protection Tank
Greenchef geyser fits the shape of the tank, ensuring uniform heating and continuous and maximum availability of hot water. The Incoloy heating element and the glass line coating used in this geyser make it durable.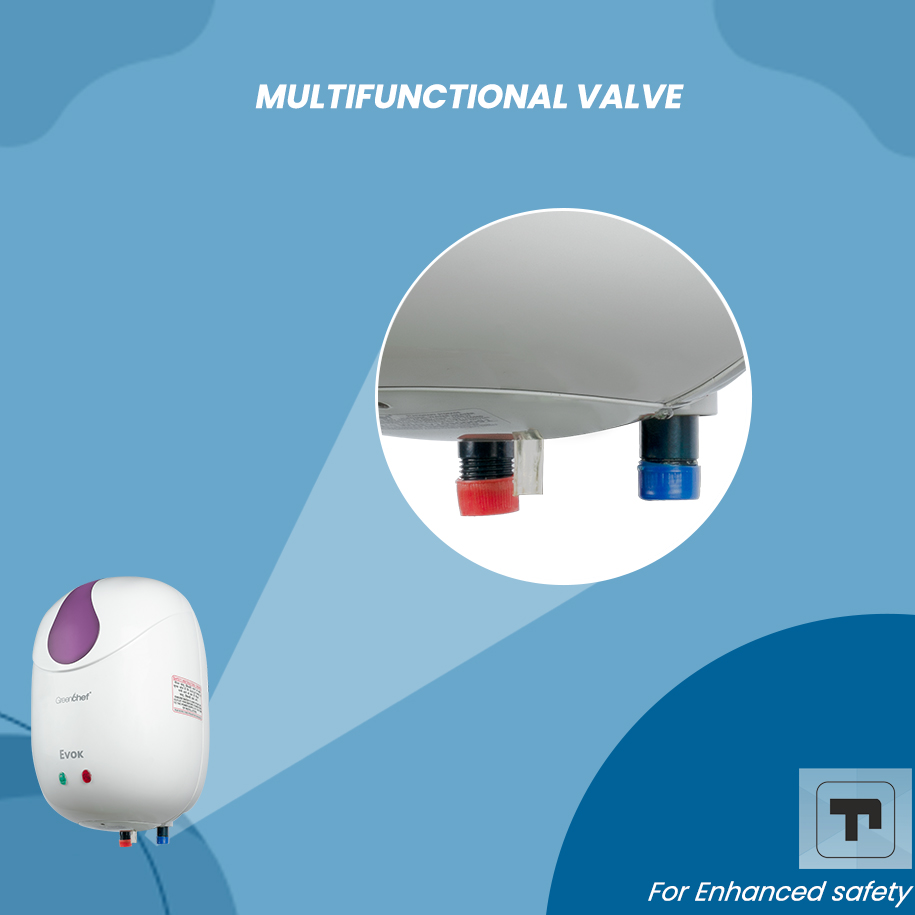 Multifunctional Valve
This geyser comes with a safety valve to release excess pressure, which makes it safer. The multifunction safety valve of this geyser helps prevent the pressure, thereby protecting the tank from internal as well as external pressure build-up.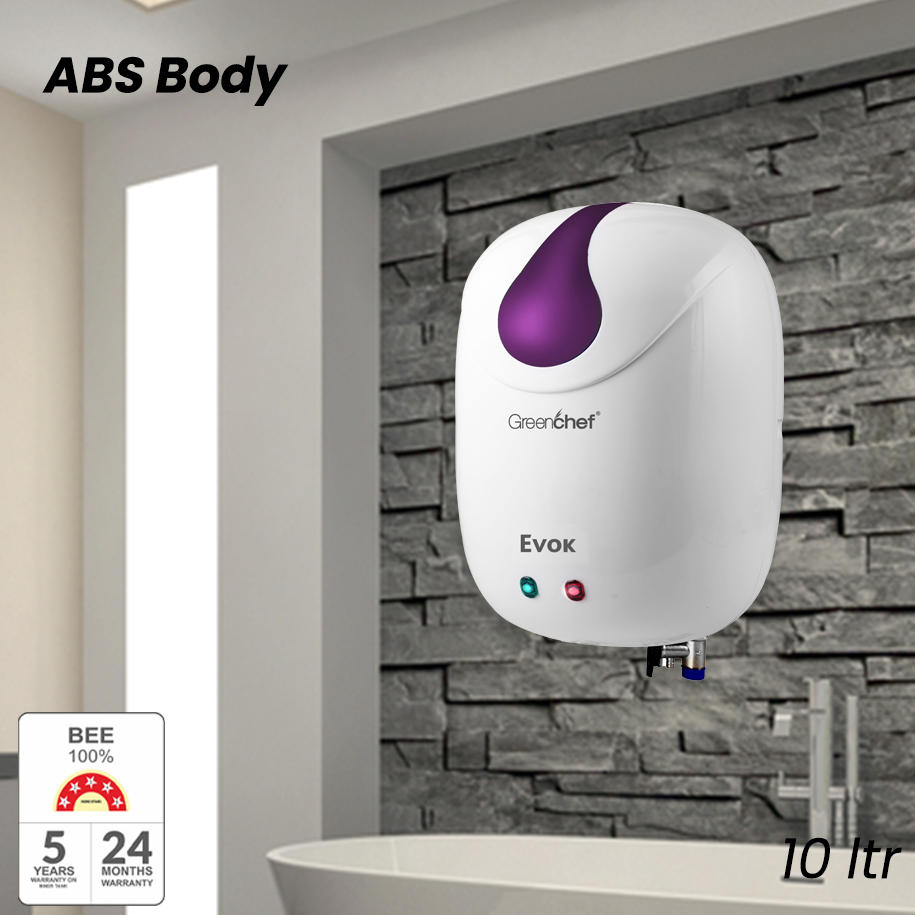 ABS Body
ABS outer body ensures shock-proof and corrosion free performance. Built with a compact oval-shaped body made of sturdy ABS plastic, the Greenchef water heater offers a winning combination of performance, convenience and style.
Ratings & Reviews
Have doubts regarding this product?