Greenchef Evok Aluminium Pressure Cooker 10L
₹2,466.00
(Inclusive of all taxes)
Availability: Out of Stock
Metallic safety plug
Gasket release system
Improved pressure regulator
Made from virgin aluminium
Anti implosion lid
New improved handle with double screw
| | |
| --- | --- |
| Model | Evok |
| Warranty | 5 years |
| Model Name | Evok Strong Aluminium Pressure cooker |
| Material | Aluminum |
| Lid Locking Mechanism | Knob Lock System |
| Dishwasher Safe | Yes |
| Capacity | 10L |
| Weight | 5.1kg |
| Special Features | Improved pressure regulator, strong and durable body, anti impulsion lid, ergonomic user-friendly handle, Gasket, new improved handle with two screw |
| Warranty Service Type | 5 Year Company Warranty from the date of purchase.  |

Greenchef Evok Aluminium Cooker (10L)
The Greenchef Evok Pressure Cooker is the best choice to make the most of your meal and keep up the safety of your food cooked. The most vital element while cooking is keeping up the cleanliness and this cooker is outlined in a way where you can ensure that the food cooked does not stick to the base by any means. The outer-lid acts as a support system & the cooking experience get better as the handle comes with heat resistance ensuring the safety of the chef. You can Steam fresh vegetables, make delicious Soups and Sauces or Savoury rice and Dal Dishes in minutes. Ensures Even Cooking, preventing food from getting Burnt. Maximum Safety, with Gasket Release system and a Fusible safety valve.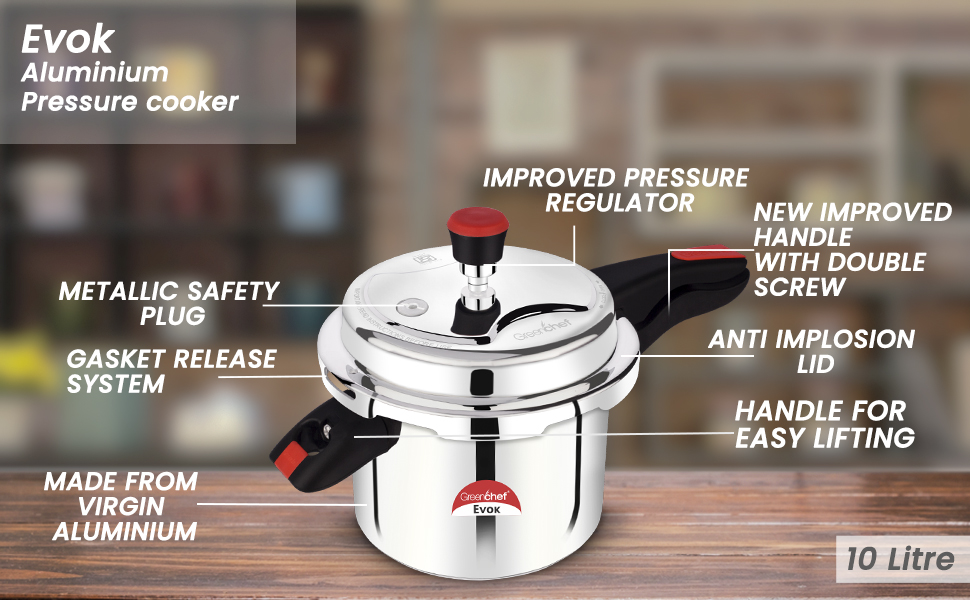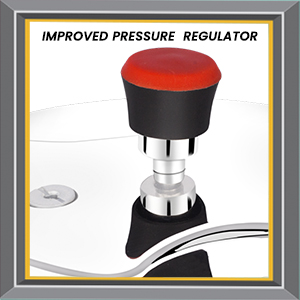 Improved Pressure Regulator
The precision-designed weight pressure regulator system helps regulate pressure better, cook faster and save on gas. It helps to make the cooking safe and time-saving for you.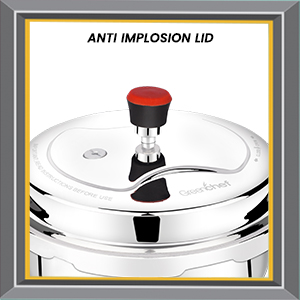 Anti-Implosion Lid
This level of safety is provided in Greenchef Evok Pressure Cooker, in case there is any blockage of the vent tube, the gasket will bulge and steam will release through the slot without implosion of the lid. Thus, making it extremely safe for usage.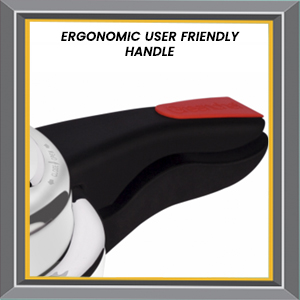 User-Friendly Handle
The Evok cooker features heat-resistant aesthetically designed Ergonomic Bakelite handles, so you can hold and move the cooker around with ease. The Bakelite handle is an easy grip and stays cool, which will allow you to handle the cooker with care.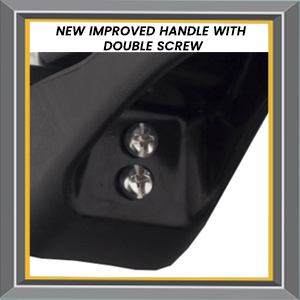 Handle with Double Screw
The body and handle both are fitted with 2 screws instead of a single screw, making it last longer and durable.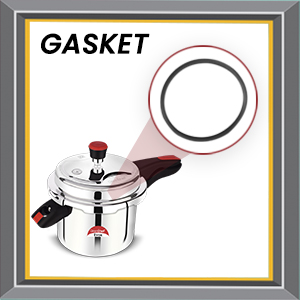 Food-Grade Gasket
The Greenchef Evok Cooker comes with a food-grade rubber gasket that ensures safe cooking. This gasket provides the perfect seal that keeps the steam from escaping. It is also resistant to oil deposits and hence is easy to clean.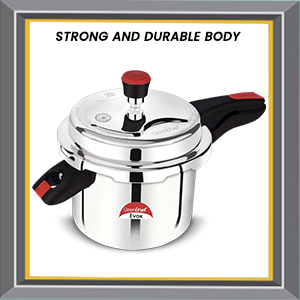 Strong and Durable Body
Greenchef Evok Pressure Cooker is manufactured from a food-grade virgin aluminium body providing lightweight and high durability with an efficient ergonomic design. The cooker is resistant to scratches or stains.
Ratings & Reviews
Have doubts regarding this product?