Greenchef Flat Tawa 310 Namo
₹916.00
(Inclusive of all taxes)
Availability: In Stock
Scratch and abrasion-resistant technology
Nonstick coating on the aluminium base
Heat resistant material
Tawa is free from toxic PFOA.
Does not require hard scrubbing.
| | |
| --- | --- |
| Model | Namo Flat Tawa |
| Package Weight | 770gm |
| Diameter | 310mm |
| Warranty | 1 year |
| Material | Non-stick Aluminum |
| Variants | 250mm, 285mm,310mm |

Greenchef Namo 310 mm non-stick Tawa
Greenchef Namo non-stick 310mm diameter Tawa is great for making delicious dosas, rotis, omelets and more. With its non-stick formula, this is a perfect Tawa for beginners. You can cook hassle-free without creating any mess. It is a versatile cooking vessel that lets you roast, simmer and sauté. It helps you prepare a variety of food items without any trouble. It's very durable as it is made of aluminium and coated with non-stick. This Tawa is scratch-resistant and non-stick. The non-stick coating ensures that you use minimal oil and also helps you cook without burning the food. Ergonomically designed handles are for comfort and safety. It is extremely durable and its ergonomic nature makes it ideal for those who prefer convenience. This Tawa is free from toxic PFOA.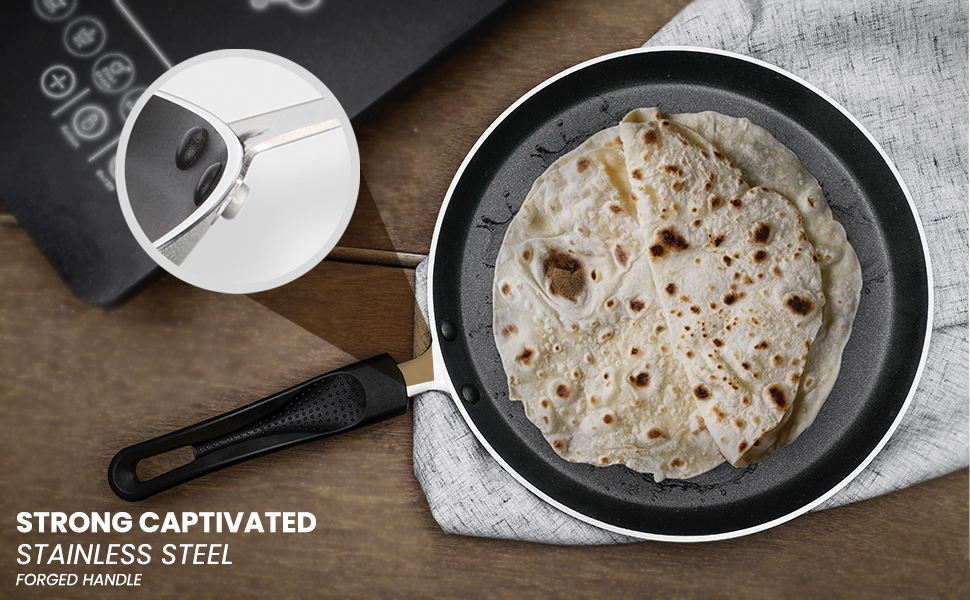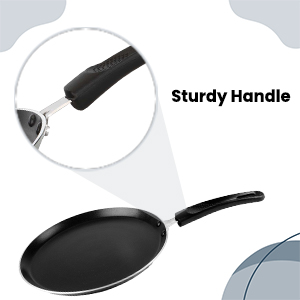 Comfortable Handles
Greenchef Namo non-stick built with a soft-touch designer finished handle, the Non-Stick Tawa has a Bakelite handle which is firm and easy to grip. The handle is made from heat resistant material that enables ease and convenience while cooking and carrying the tawa.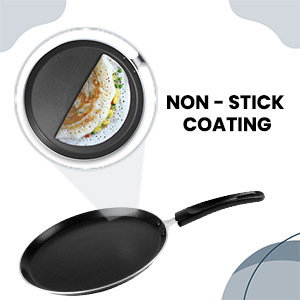 Non-Stick Coating
The tawa has a nonstick coating on the aluminium base which requires minimal oil, doesn't allow food to stick to the surface and allows even distribution of heat. This saves gas and cooks your nutritious food faster. This non-stick coating tawa is durable and scratch resistant.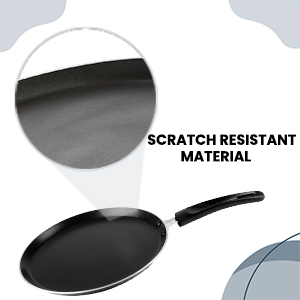 Scratch Resistant Material
The greenchef tawa is designed with scratch and abrasion resistant technology, this tawa range has extreme ability to resist scratches and corrosion on non-stick surfaces making it extremely durable. The cooking dynamics also ensures quick and great cooking experience.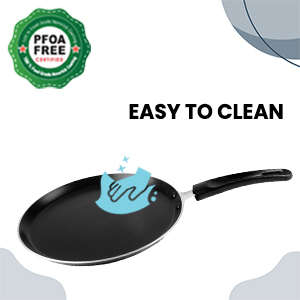 Easy to Clean
Greenchef tawa is dishwasher safe so that you can wash it and reuse it without any hassle and there will be no smell of the leftovers. Maintaining the tawa is also simple. Owing to its non-stick coating the food residue does not stick to the pan and can be easily washed off with liquid soap and water and does not require hard scrubbing.
Ratings & Reviews
Have doubts regarding this product?