Greenchef HA Unique IB Cooker 3ltr
₹2,999.00
(Inclusive of all taxes)
Availability: In Stock
3 layered lid
Has a unique shape which makes cooking easy.
Making it extremely safe for usage
Hard-Anodized Body
Induction Compatible
Adds an elegant look to your dining table.
| | |
| --- | --- |
| Model | Unique |
| Capacity | 3L |
| Warranty | 5 years |
| Package Weight | 2.63kg |
| Material | Hard anodized |
| Capacity available | 3L & 5L |
| Special features | Induction base, Comes with 3 different lid |

Greenchef Unique Multipurpose 3L Induction Bottom Pressure Cooker
Greenchef Unique cooker comes with a hard-anodized body and the cooker has an impressive glossy black finish. Which makes it a perfect addition to any kitchen. Its induction base is designed for even distribution of heat. Its hard anodizing makes it absorb heat much faster and better than other cookers, which in turn helps you save on gas. To ensure durability, this pressure cooker comes with a stainless-steel weight valve. The hard-anodized body of this cooker is non-reactive to any food items cooked in it. This ensures that your food is safe to consume. These handles help you handle the cooker without any problem even when it is very hot. This 3L pressure cooker has a unique shape which makes cooking easy. The original All in one Super cooker is a first of its kind multipurpose product with a unique 'Handi' shape that not only gives it a very traditional look but more importantly, allows it to retain the nutritional value in food. The Hard Anodised body comes with a non-stick coating, which is easy to clean, scratch resistant, safe and has a longer life span as it acts as a layer of protection over the body of the cooker. The 3 layered lid comprises of a strainer, serving, and pressure-cooking lids.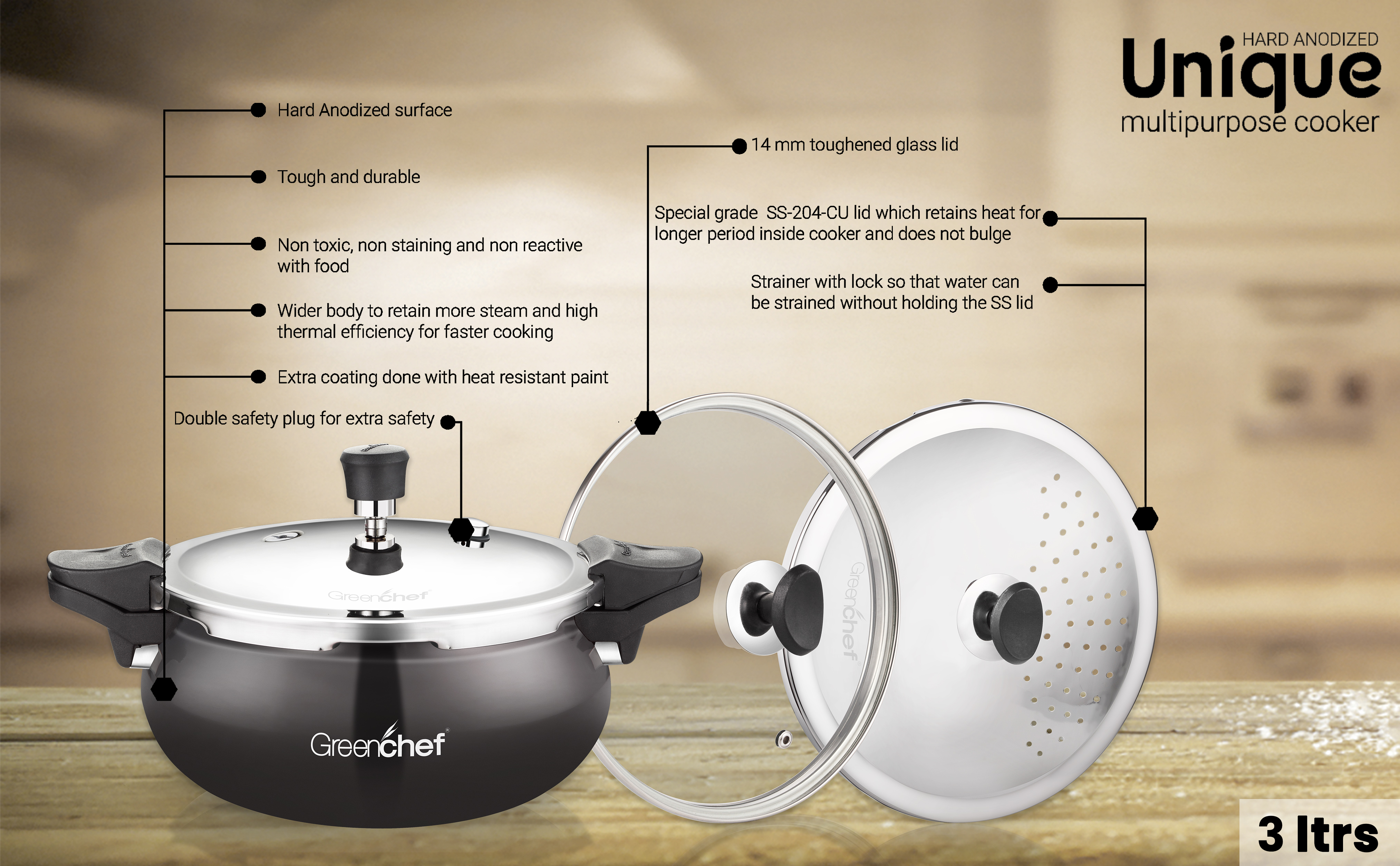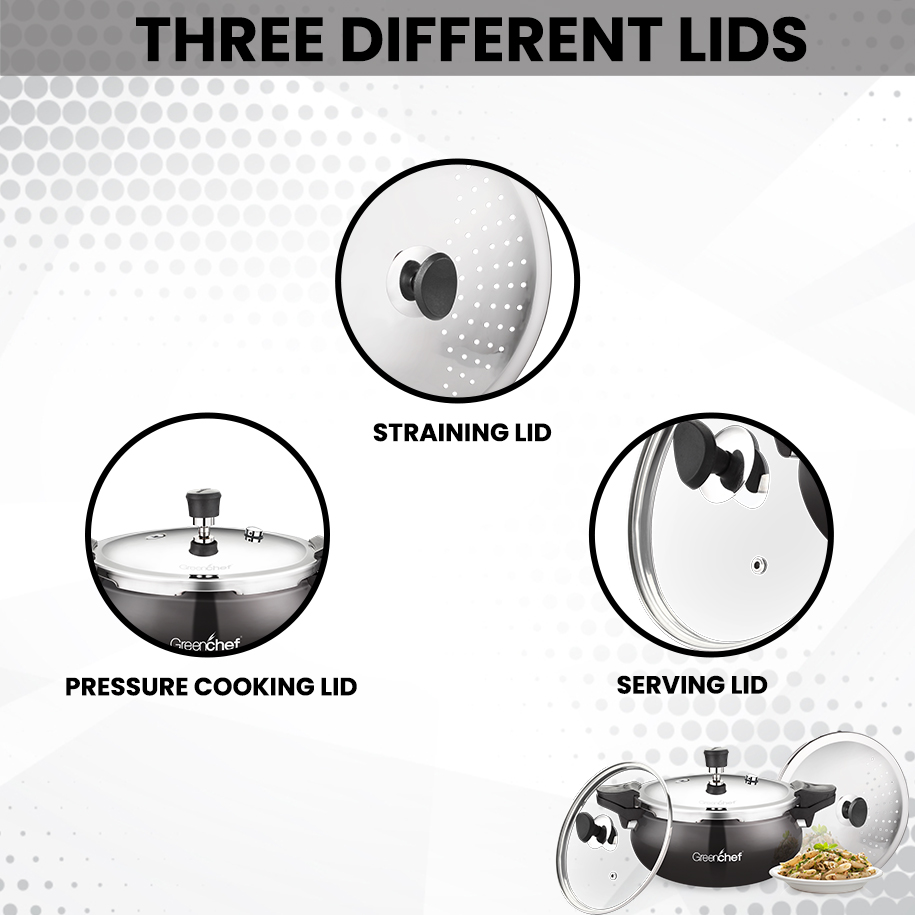 Three Different Lids
This Greenchef unique cookers comes with three different lids- straining, serving and pressure-cooking lids. This straining lid is used to strain the water from food and boiled vegetables. Pressure cooking lid is used primarily as a regular pressure cooker. The serving glass lid is used mainly for serving on the dining table and adds elegant look to your dining table.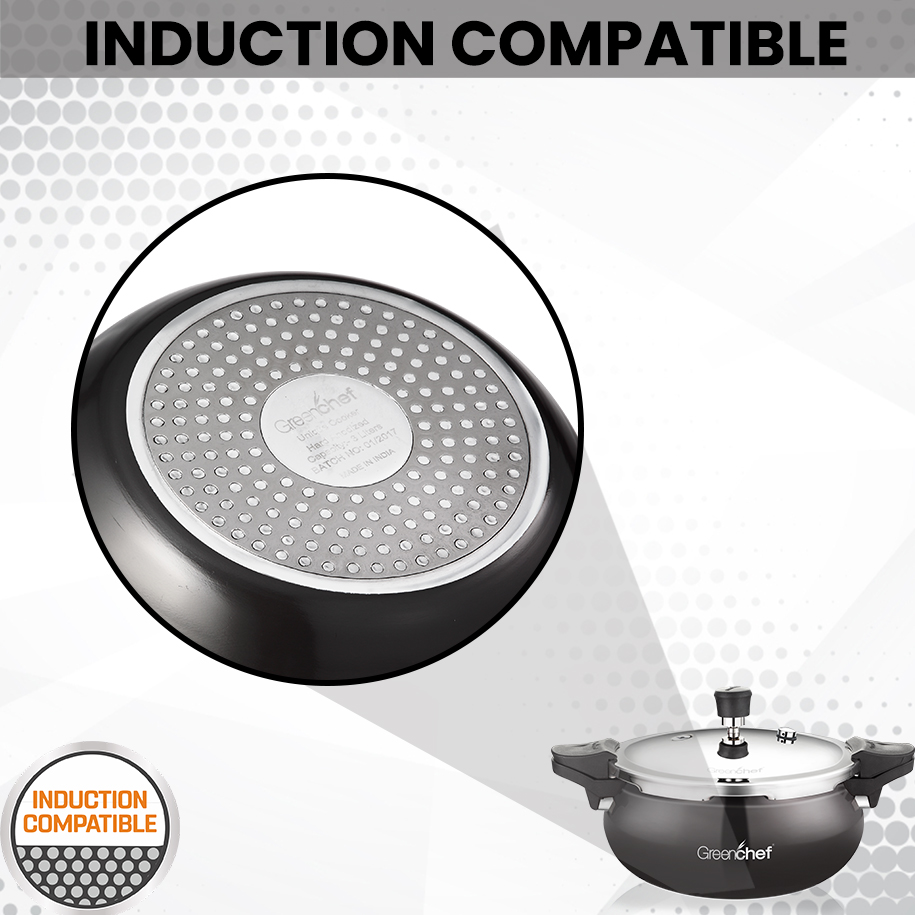 Induction Compatible
Greenchef Unique pressure cooker is multi-top compatible. Therefore, it can be used on standard gas, induction and electric cooktops. The base of the cooker remains flat without bulging or becoming concave.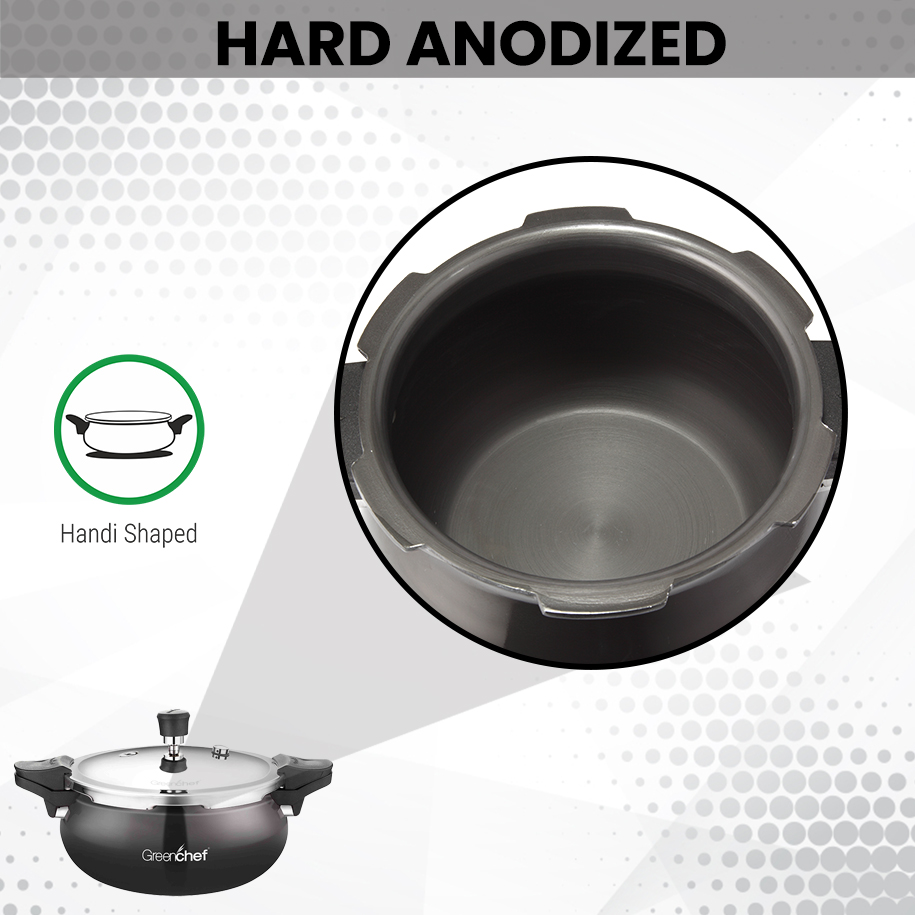 Hard Anodized Body
The beautiful, durable black finish cooker is thick hard anodizing which is Scratch-resistant, stain-resistant and stick-resistant cookware that not only preserves your nutrients to give you a healthy and nutritious meal but also lights up your kitchen with its sleek design.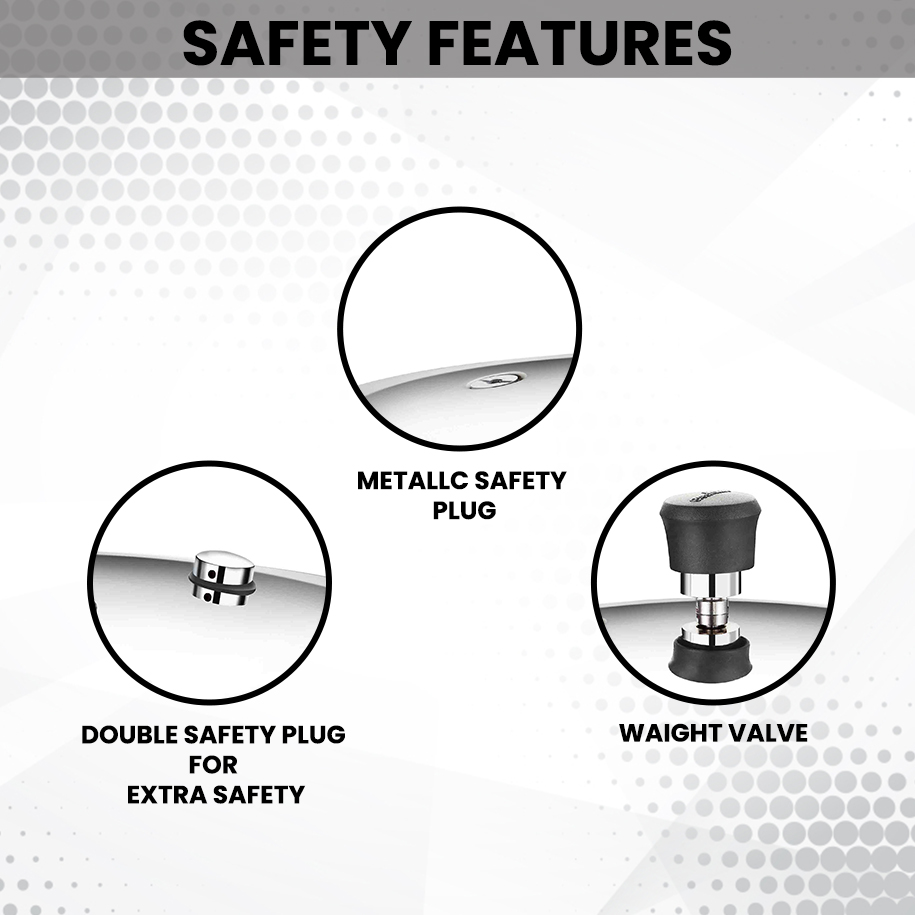 Safety Features
Its range of features include the weight valve, central gasket, and the Metallic safety plug at the top of the lid, which allows the excess pressure to come out making it very safe. In case there is any blockage of the vent tube, gasket will bulge and steam will release through the slot. Thus, making it extremely safe for usage
Ratings & Reviews
Have doubts regarding this product?