Greenchef Hob 3Burner Kelvin
₹13,249.00
(Inclusive of all taxes)
Availability: Out of Stock
Three Jumbo burners
Toughened Glass
Sturdy pan support
Heat resistant knob
Auto ignition
7mm toughened glass
| | |
| --- | --- |
| Model | Kelvin |
| Package Weight | 14.4kg |
| Warranty | 1 year |
| Number of Burners | Three |
| Burner type | Jumbo burners |
| Product Dimension | 78*45*6.5 cm (L*W*H) |
| | |
| --- | --- |
| Nozzle | Under glass stop (right corner) |
| Glass Thickness | 7mm |
| Ignition type | Autoignition |

Greenchef Kelvin Hob 3Burner
A Hob is a British term for stove top or cook top. The Hob provides direct heat that is used for boiling, simmering, steaming, etc. In a kitchen hob is a projection, shelf, grate for holding utensils at the back or side of a hearth(fireplace) to keep them warm, or an internal chimney-corner. Greenchef Kelvin Three-burner gas stove comes with a sleek and compact design, with an elegant black glass top, makes this hob an ideal addition to your modern kitchen. This stylish hob comes equipped with a 7mm toughened glass that is scratch-resistant and easy to clean. It is a great combination of performance, efficiency, and good looks. The four burners are spaced out well enough to let you cook large dishes side-by-side.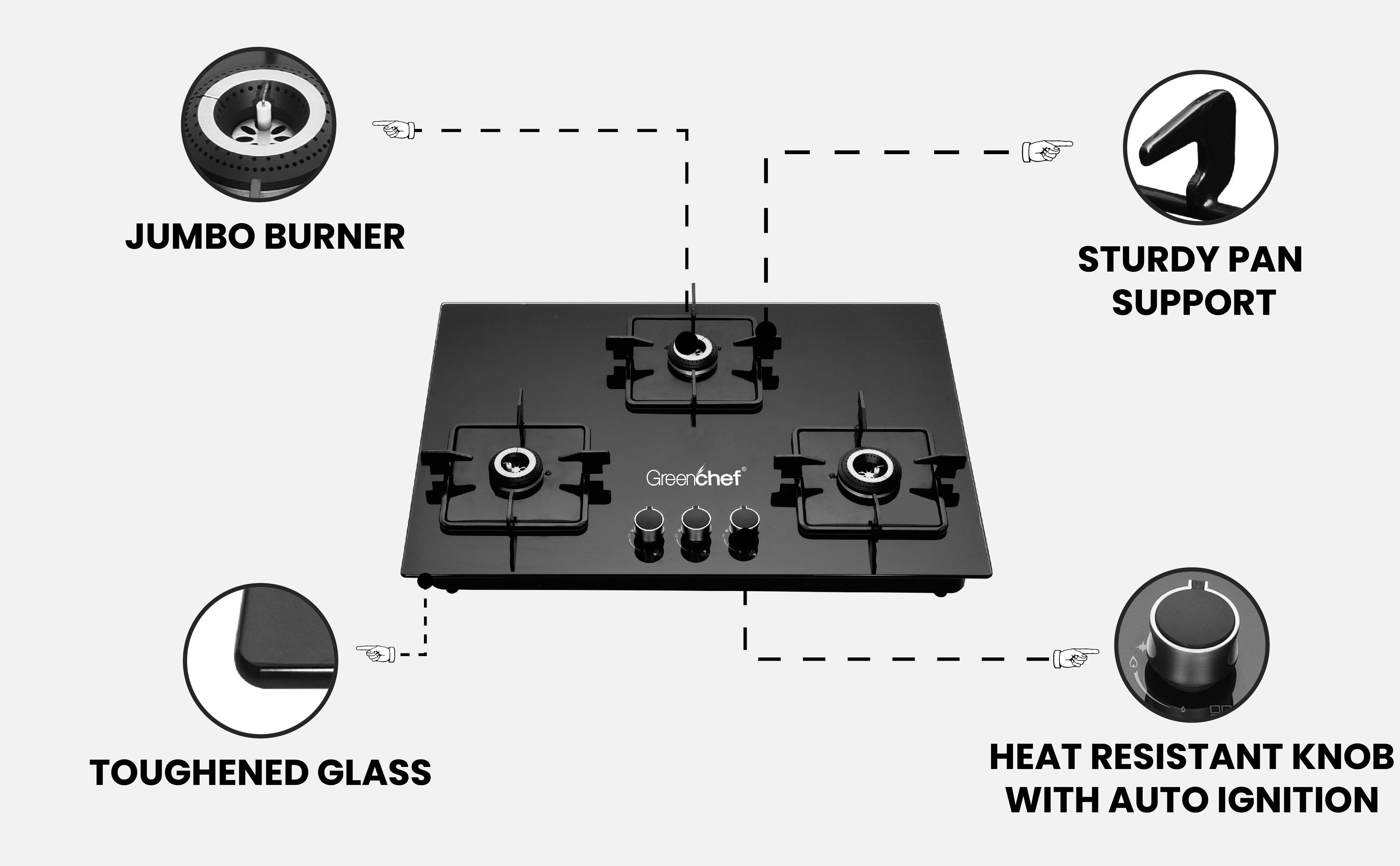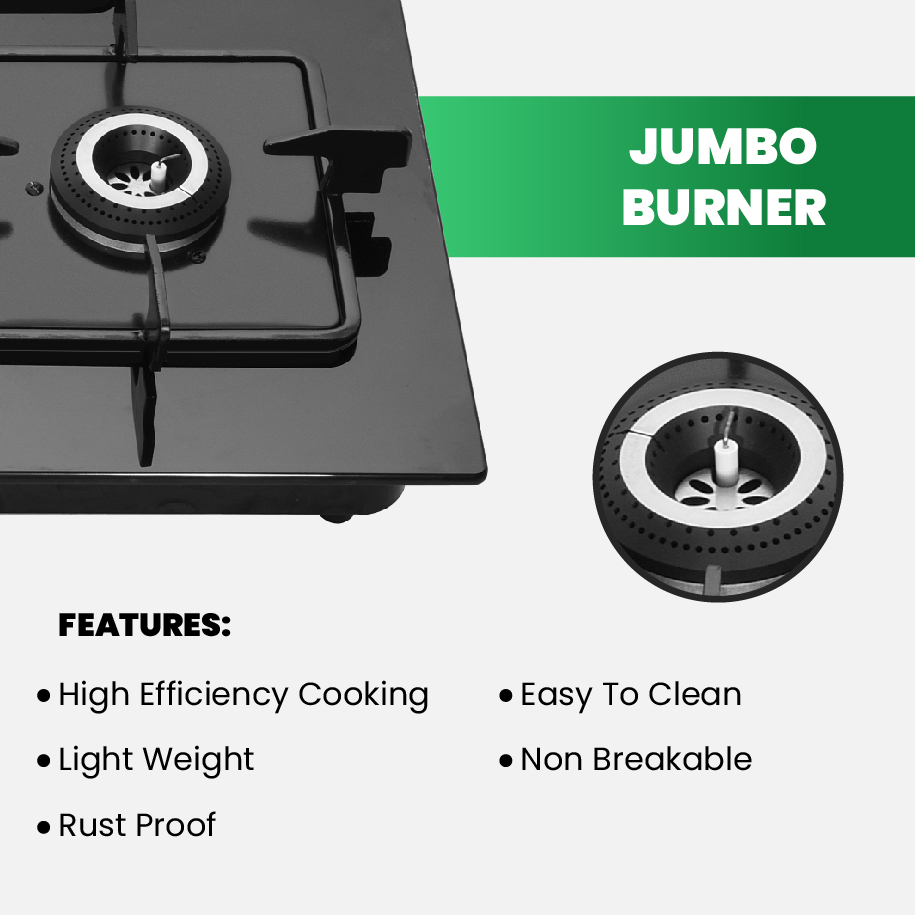 High-efficiency Jumbo Burner
Specifically designed to suit different types of cooking types to support different sizes and shapes of the cooking vessel, the Greenchef cooktop comes with a jumbo burner to keep up large utensils. With safety, it also delivers resistance from corrosion and high heat. The cooktop is featured with 3 Distinct Sized Burners. These burners are highly efficient and non-breakable.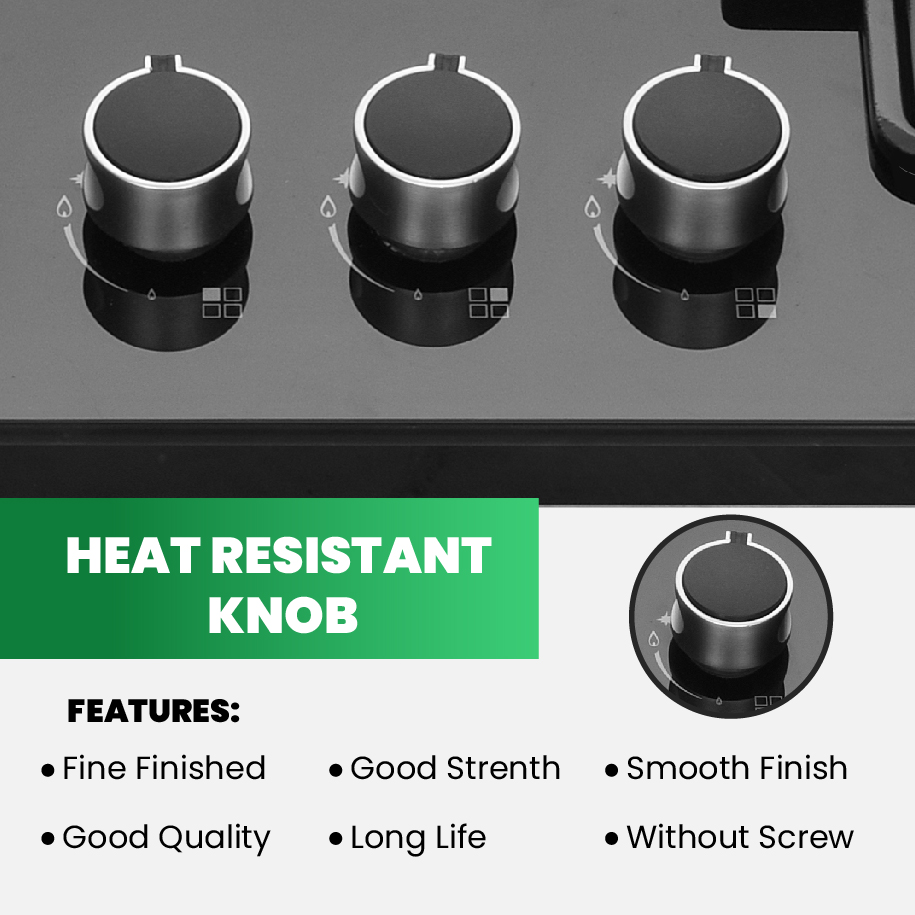 Heat Resistant Knob
Greenchef Hob comes with a smart and elegant knob for that firm grip and professional look. These knobs are strong and sturdy to use. The knobs are made heat resistant for longer cooking durations unique to Indian cooking. Just turn the knobs and the burner ignites automatically, this ensures smooth functioning and trouble-free service.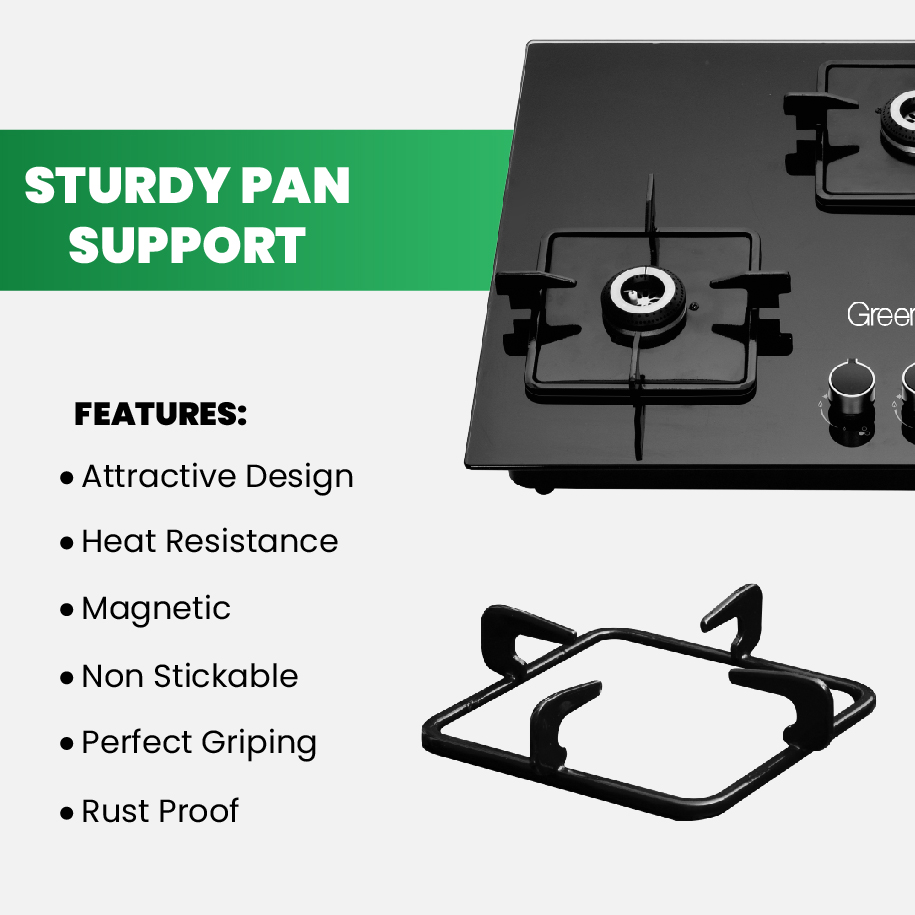 Sturdy Pan Support
Sturdy pan supports that easily accommodate large and heavy vessels. Greenchef Hob pans provide durability and maximum stability for pots and pans and they maintain their balance on the stove and not fall off easily. These thick pans hold perfect griping, rustproof and attractive design.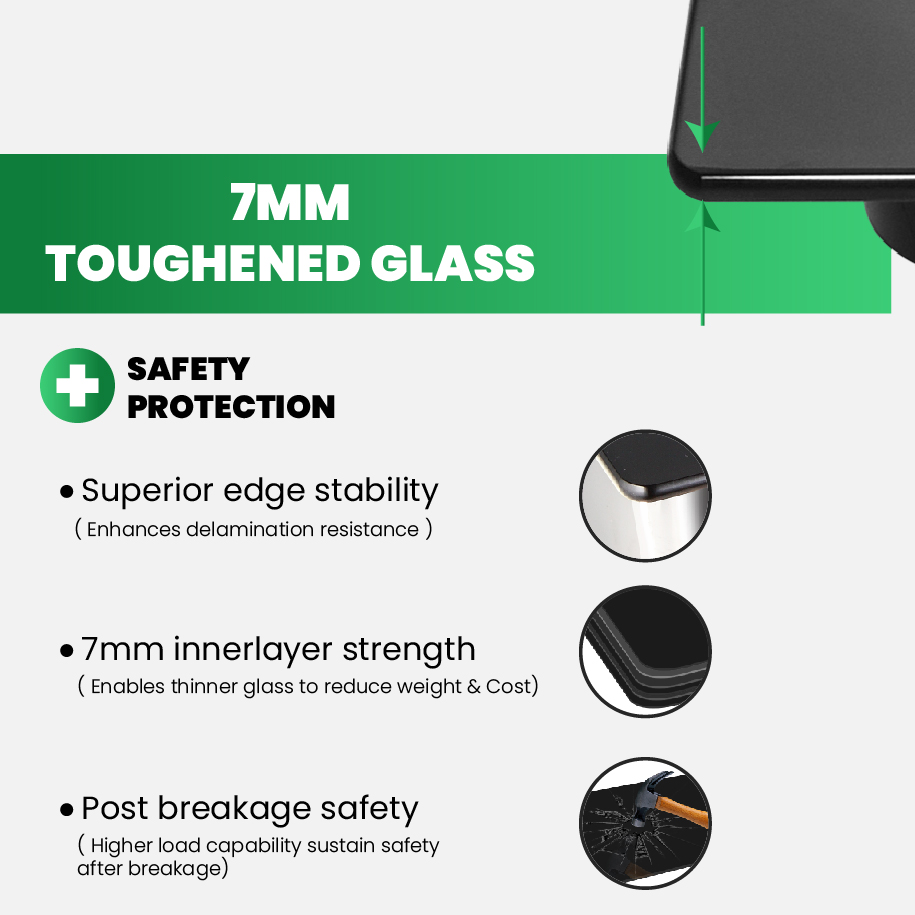 7mm Toughened Glass
This Hob Cooktop has toughened Black Glass 7mm edge glass finish, which is non-breakable. The glass finish is not only durable and long-lasting but also beautifies the aesthetics of your kitchen. The Toughened Black Glass is easy to clean, heat, and scratch-resistant.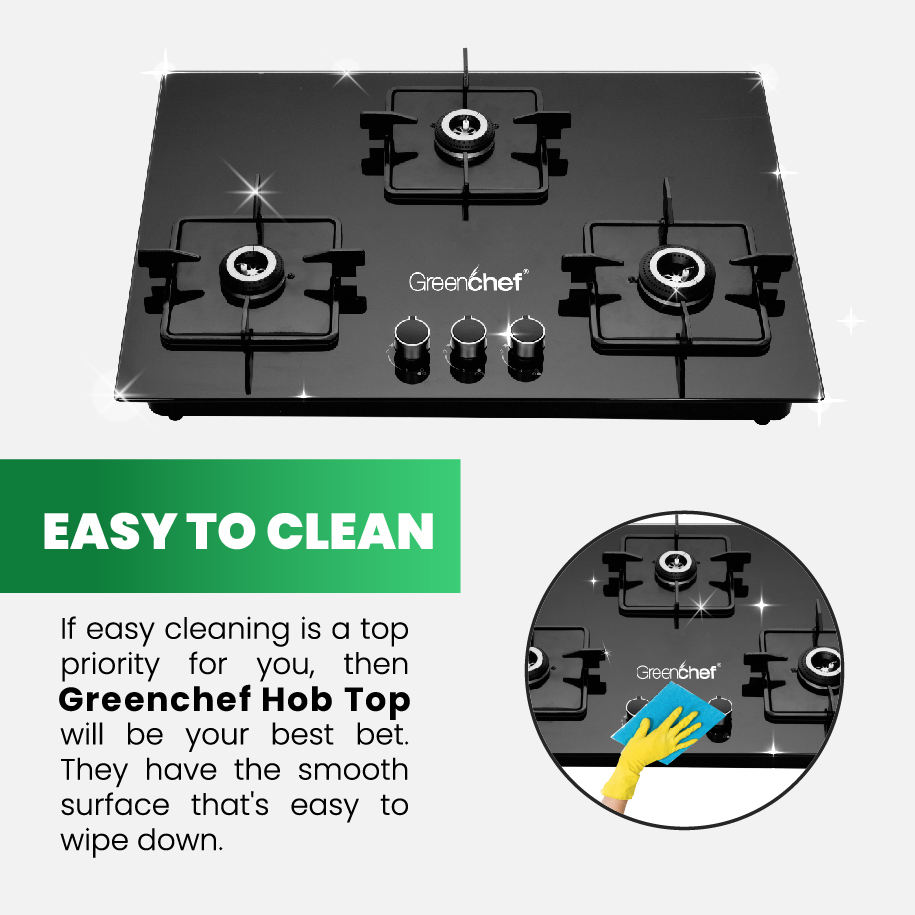 Easy to clean
The Greenchef Hob cooktop having a smooth surface that is easy to clean and maintain. One of the big challenges while cooking is maintaining a clean kitchen, this Hob can be cleaned very easily simply by using a wet cloth this helps in keeping your kitchen clean as soon as you're done cooking.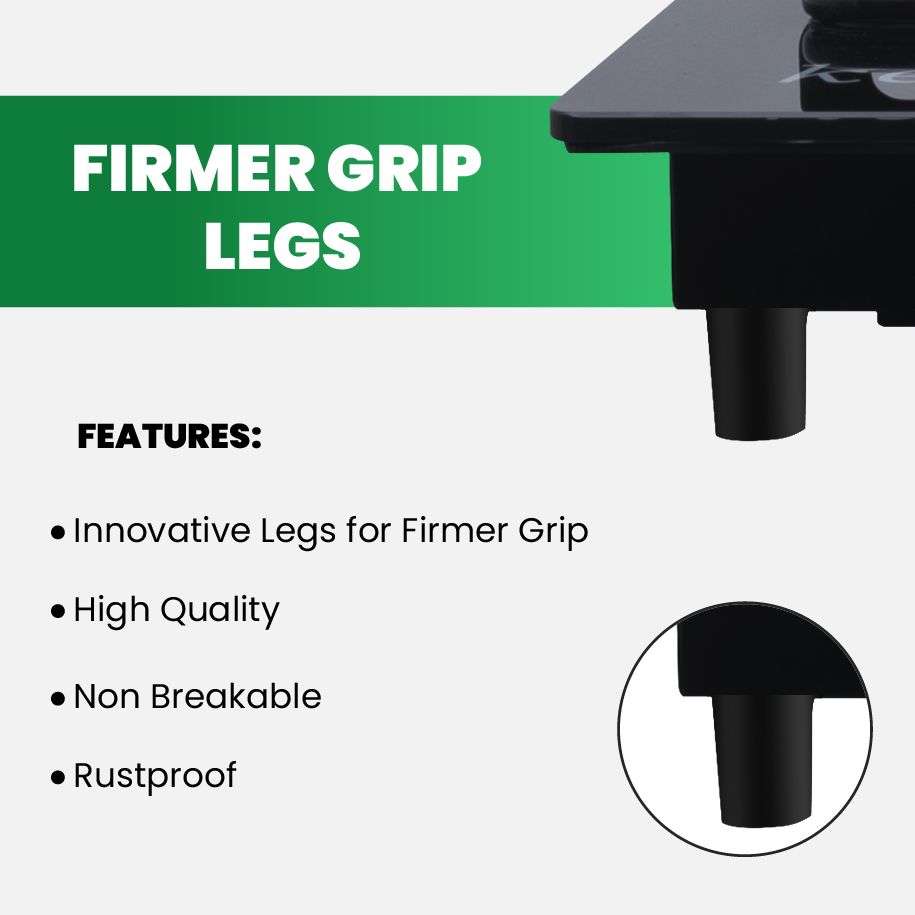 Firmer Grip Legs
Greenchef hob cooktop's firmer grip legs ensure the Hob remains stationary even when excessive force or pressure is applied this makes for comfortable cooking. This rubberizes anti-skid legs which makes them easy to operate. You can stir or use heavy vessels without worrying about the stove skidding.
Ratings & Reviews
Have doubts regarding this product?