Greenchef TORA 75CM Chimney BK
₹24,992.00
(Inclusive of all taxes)
Availability: In Stock
Suitable for 3-4 Burners
1200 CMH
Cassette Filter
Uses fine Mesh to trap grease
Needs regular manual cleaning of the filters
Very effective in removing odour
Wall Mounted Chimney 
| | |
| --- | --- |
| Model | Tora 75 BK |
| Brand Color | Black |
| Finish | Stainless Steel and Glass |
| Shape | Slant Type |
| Mount Type | Wall Mounted |
| Material | Glass, Steel |
| Air Suction Capacity | 1200 CMH |
| Control Panel Type | Touch and Motion Sensor |
| Ductless | No |
| Filter Type | Filterless |
| Model Name | Tora BK 75CM Motion sensor, Auto clean |
| Color | Black |
| Speed Levels | 3 |
| Noise Level | 58 dB |
| In-built Lights | Yes |
| Number of Lights | 2 |
| Light Type | LED |

Greenchef Tora BK 75cm Chimney
Enhance the look of your kitchen with the charming design of the Greenchef Tora kitchen chimney. Continuous exposure to smoke and strong aromas affects your health, this chimney is designed to suit your needs. This chimney promises you a power-packed performance always. This compact and elegantly designed chimney has attractive features and impressive performance. It enables smoke and dust-free cooking as it comes with an airflow capacity of 1200m³/hr. With 2 LED lamps, it gives the perfect amount of light for your cooking. It comes with trendy touch control that will give easy access to all the features of your chimney so you can clean, control the power, lights, and 3 speeds of the chimney. This chimney has filterless technology, Since there are no filters in this chimney, cleaning it won't be a hassle anymore, thereby reducing its maintenance cost. Also, the position of the motor allows smoke and air to move freely. It equipped with a motion sensor, so all you have to do is wave at your chimney to control it with ease. This chimney comes with advanced auto clean technology with just one touch that solves the problem of cleaning your chimney and it is designed with a separate oil collector to ensure easy cleaning. The oil collector collects the oil and another residue conveniently. This chimney makes less noise to provide you with a comfortable cooking environment. It easily gets fitted in the wall of your kitchen that also acquires less space will appearing contemporary.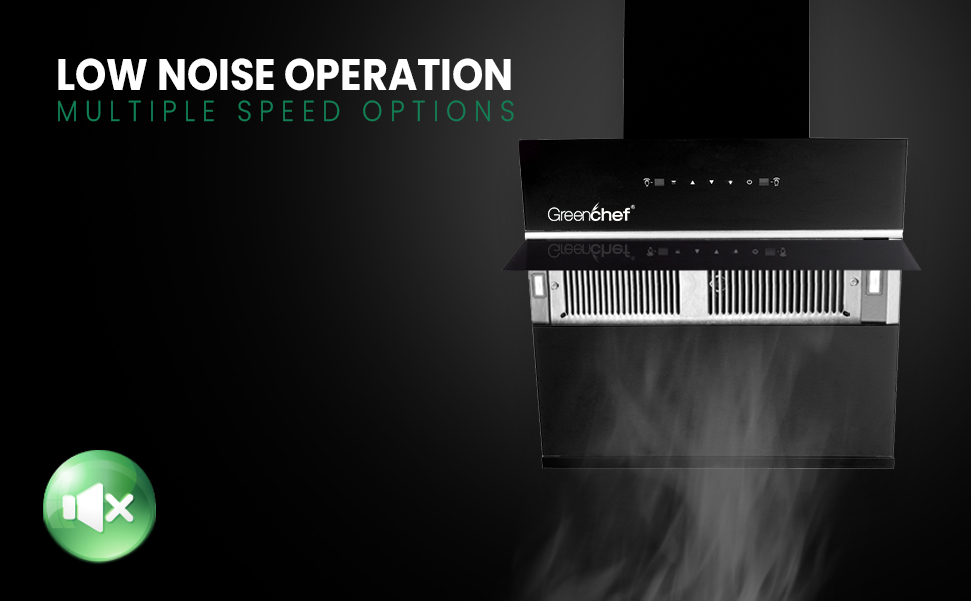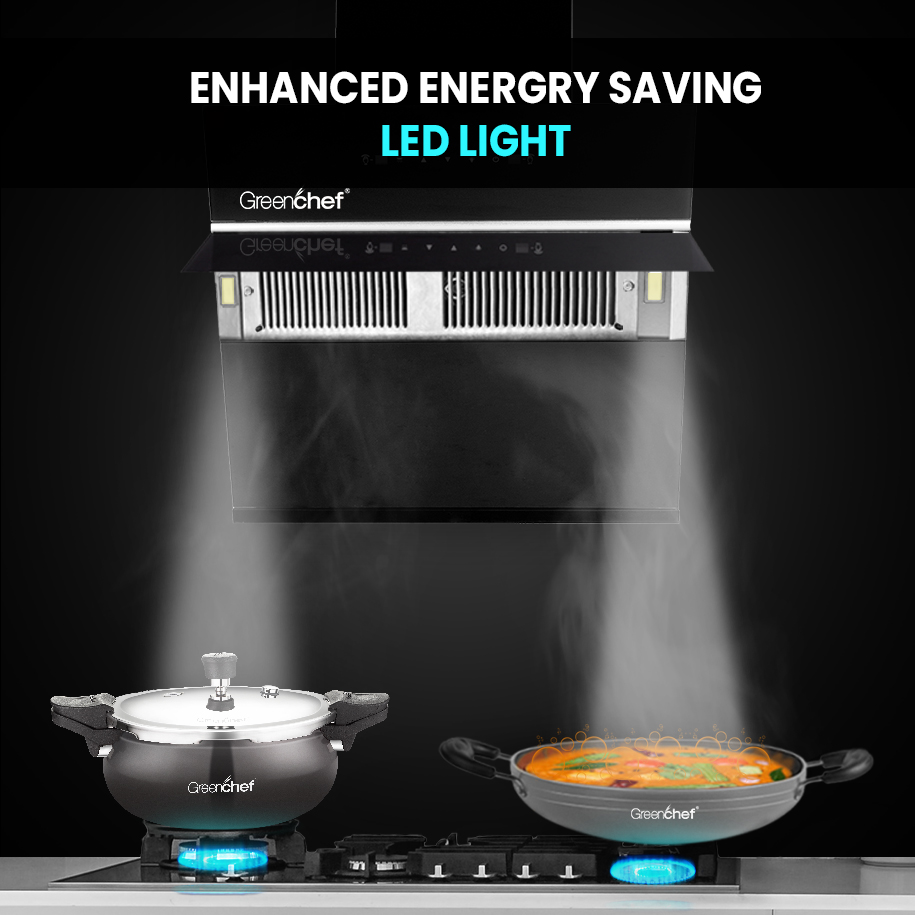 Energy Saving LED Light
With the included 1.5W LED lighting, you can rest assured this is an energy-saving solution to lighting up your cooking area with style. Mounted directly below the wall mount range hood, cook, and see better in the dark. Brighten your cooking space, especially while preparing those delicious curries, by switching on the LED lamp of this chimney.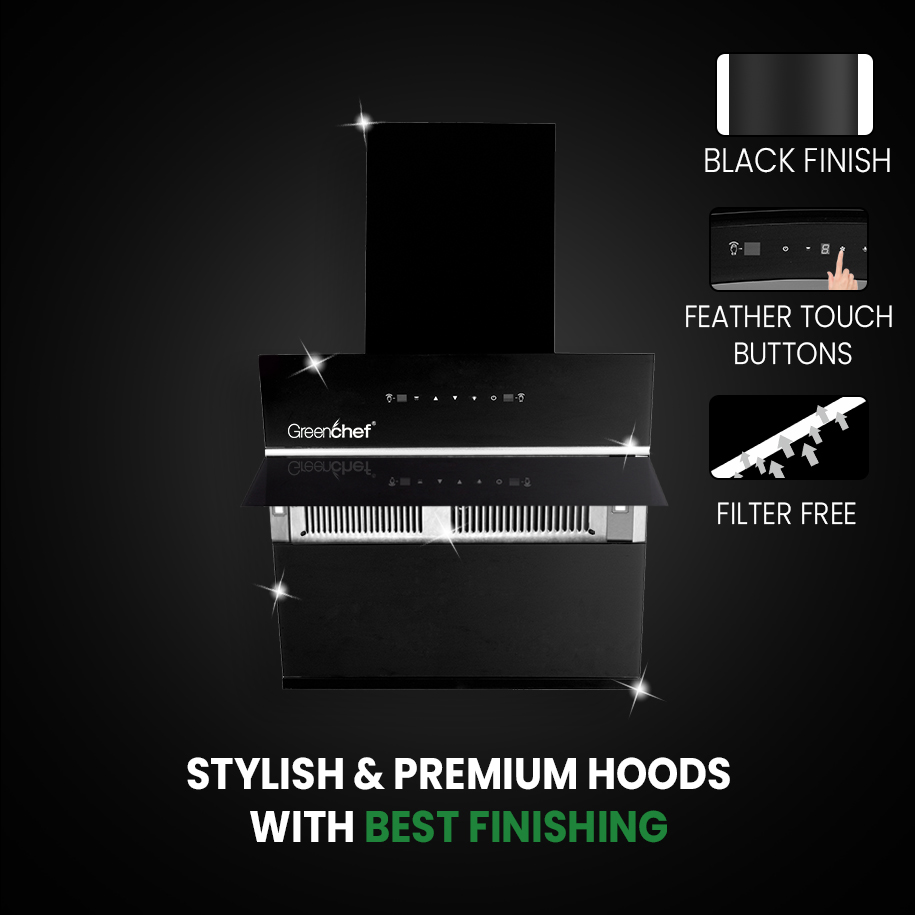 Stylish & Premium Hoods
Enhance the aesthetics of your modern kitchen with this stylish Greenchef Acura kitchen chimney. Greenchef Acura chimney comes with a pyramid shape design and black finish that will surely enhance your kitchen décor. The classic design with compact size can be easily installed in the kitchen. Now you can cook in smoke-free surroundings.
Sturdy & Durable Motor
Greenchef Acura chimney equipped with sturdy & powerful motor for efficient suction capacity. Being powerful also ensures long durability, consumes less power, and makes less noise. This chimney comes with a suction capacity of 900m³/hr, it lets you cook hassle-free without worrying about smoke or dust.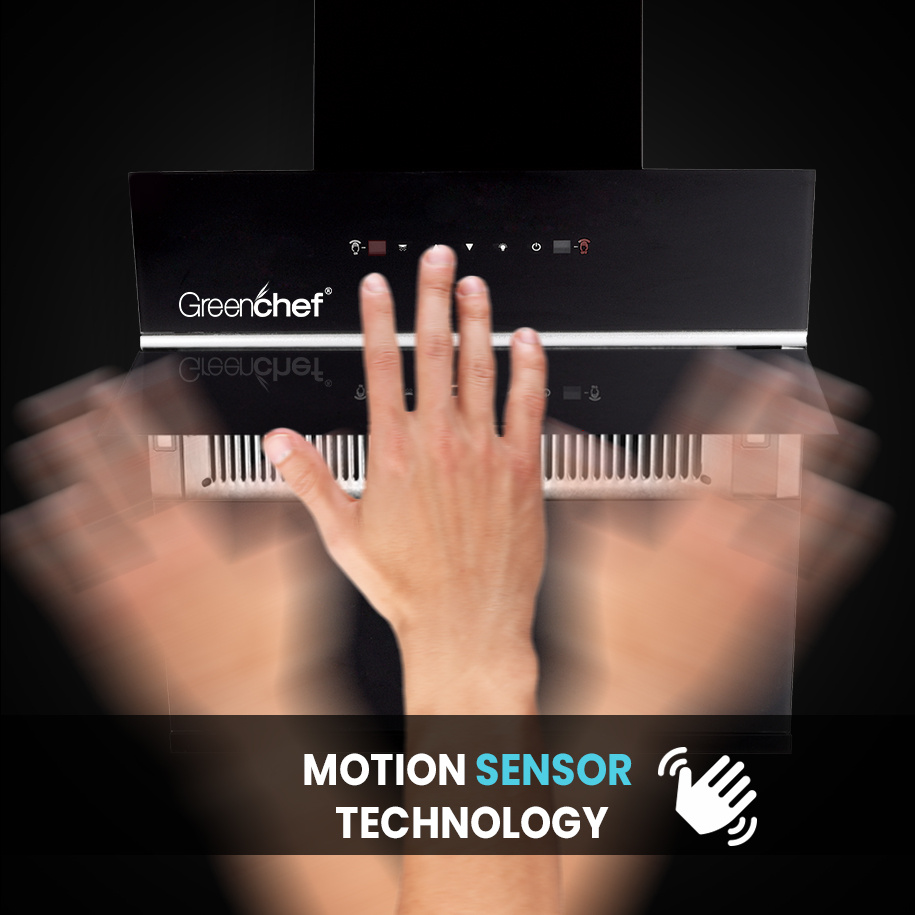 Motion Sensor Technology
Now operate the chimney with the wave of your hand. The motion sensor feature enables the chimneys to be switched on with just the wave of a hand. Wave your hand towards the right to turn on the chimney and continue waving to increase the speed. While waving towards the left will decrease the speed and finally turns it off.
Ratings & Reviews
Have doubts regarding this product?