Greenchef Flat Tawa 285mm Namo IB
₹916.00
(Inclusive of all taxes)
Availability: In Stock
Companion for oil-free and healthy cooking
High-end induction friendly plate
Efficient Bakelite handle for ease of use
Has three-layer coating
Non-stick, Aluminum
| | |
| --- | --- |
| Model | Flat Tawa |
| Package Weight | 650gm |
| Diameter | 285mm |
| Warranty | 1 year |
| Material | Non-stick, Aluminum |
| Variants | 250mm,285mm, 310mm |
| Special Features | Induction base |

Greenchef Namo IB 285mm non-stick Tawa
The Greenchef Non-Stick Tawa is your companion for oil-free and healthy cooking. This virgin aluminium Tawa offers effective heat distribution while cooking at a high temperature. The Greenchef Non-Stick Tawa is compatible with both gas stove and induction cooktop surfaces, fitting well with modern kitchens. An extra thick base with a high-end induction-friendly plate helps prevent accidents and warping. This Tawa has a high temperature-resistant outer surface coating that is long-lasting. Make rotis, chapatis, parathas, dosas, and pizzas for the entire family with this easy-to-use non-stick Tawa. For your convenience, this Tawa is also dishwasher safe. Greenchef non-stick Tawa is equipped with an efficient Bakelite handle for ease of use. Bakelite can withstand high temperatures and keep the heat away from your hands. Cook with ease with the wide base of this Tawa that ensures your food cooks evenly & quickly. Greenchef flat Tawa has a three-layer coating, durability layer, non-stick layer, and extreme stick proof coating. This Tawa offers a smooth cooking surface while preventing stickiness and mess, for oil-free and healthy rotis, chapatis, parathas , and more.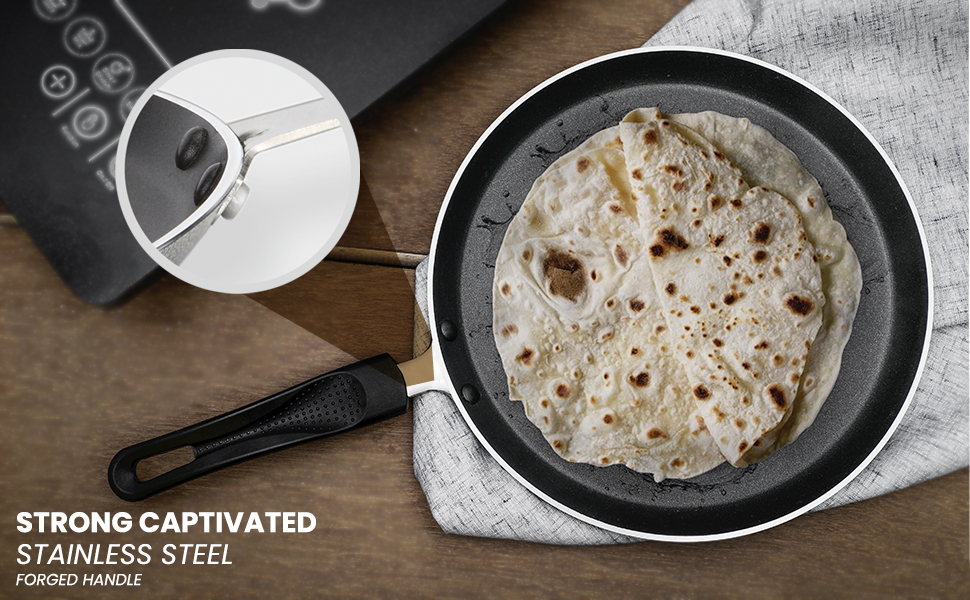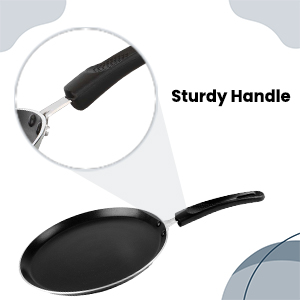 Comfortable Handles
Greenchef Namo non-stick built with a soft-touch designer finished handle, the Non-Stick Tawa has a Bakelite handle which is firm and easy to grip. The handle is made from heat resistant material that enables ease and convenience while cooking and carrying the tawa.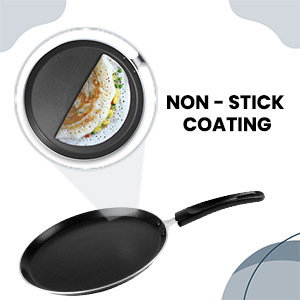 Non-Stick Coating
The tawa has a nonstick coating on the aluminium base which requires minimal oil, doesn't allow food to stick to the surface and allows even distribution of heat. This saves gas and cooks your nutritious food faster. This non-stick coating tawa is durable and scratch resistant.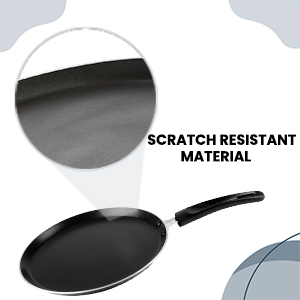 Scratch Resistant Material
The greenchef tawa is designed with scratch and abrasion resistant technology, this tawa range has extreme ability to resist scratches and corrosion on non-stick surfaces making it extremely durable. The cooking dynamics also ensures quick and great cooking experience.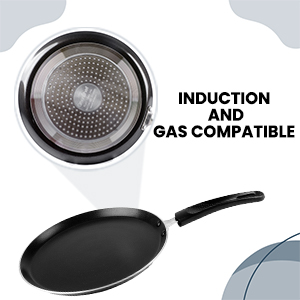 Multi Compatible
The high-quality, extra-thick base distributes heat evenly and is suitable for all cook-tops, including induction and gas stove. The thick bottom of the tawa conducts heats efficiently and distributes it evenly for a better cooking experience.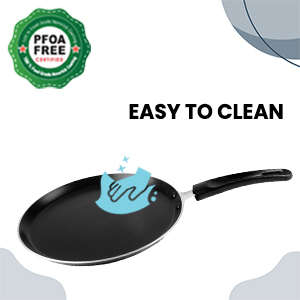 Easy to Clean
Greenchef tawa is dishwasher safe so that you can wash it and reuse it without any hassle and there will be no smell of the leftovers. Maintaining the tawa is also simple. Owing to its non-stick coating the food residue does not stick to the pan and can be easily washed off with liquid soap and water and does not require hard scrubbing.
Ratings & Reviews
Have doubts regarding this product?